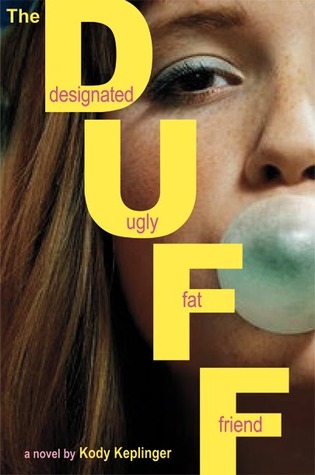 Book: The DUFF by Kody Keplinger
Genre: YA Contemporary
Rating:
★★☆☆☆
For: Fun
From: Bought on Kindle (possibly for free, I can't remember)
Short Synopsis:
So, we have our girl who gets upset right from the start when a guy she can't stand explains to her that she is her friends' DUFF... designated ugly fat friend. Well, she's bugged, but not really devastated. What makes her more crazy is the stuff going on at home with her parents. And then one day, she's with this guy that she "hates" and she up and kisses him which launches them into a terribly unhealthy relationship where she uses him to deaden her feelings and for a distraction. And he knows it and he doesn't care. Well, that is, until he does.
My Response:
Ugh. Really. I mean. I don't even know what to say. Well, and I did read it and all. And turned the pages quickly and easily. But I was so bugged with how she dealt with things. And I didn't like her for that. And I didn't like him either. And so I really wasn't rooting for them to get together. And I hoped all along that maybe they would change a lot and maybe it would turn out a little romantic in the end. But it never really did. Except for a love letter that he writes her, which was actually really sweet. But that was about it.
Bottom Line:
Eh, it was okay, but mostly just dumb and not at all satisfying.
Let's Talk About:
Do you find that if you don't care about the characters then the whole book is pretty much a wash? I hate it when that happens. Luckily, it doesn't happen often!
Other Reviews:
This is a good book with a commendable ending that I would recommend to anyone who doesn't have objections to high school sex and "language."
From Rhapsody in Books
Though entertaining, The DUFF lacked a little something I like to call nuance. Something for readers to gleanbetween the lines, if you know what I mean.
From Write Meg
While I understand her need to "escape" all the stuff going on in her life, why did she have to escape like that?
From Books With Bite
It's funny, entertaining and a very quick read.
From Dark Faerie Tales