It's that time of year! I want to let you know how my reading went whether you want to know or not! So I bring your this post in two parts. First the stats, and then the list of my favorite ten books of the year. Enjoy.
Year End Stats
TOTAL BOOKS: 76
Total pages: 24,579
Total Re-reads: 4 (one of them I read twice just this year)
Authors
Men: 14
Women: 62
For:
ARCs for Review: 13
Supporting Utah Authors: 21
Book Club: 9
Read Alongs: 3
Beta Reading: 1
For Fun/No Reason: All the rest! (29)
From:
Library: 21
On my Kindle: 20
Bought/Owned: 35
Borrowed: 0
Genres
YA: 52
Adult: 17
Middle Grade: 7
From the YA category:
Fantasy: 17
Science Fiction: 8
Dystopian: 7
Contemporary: 17
Horror: 1
Graphic: 1
Historical Fiction: 1
From the Adult category:
Fantasy: 1
Science Fiction: 2
Classics: 3
Graphic: 3
Literary Fiction/Romance: 5
Poetry: 1
Mystery: 2
Non Fiction: 0
From the MG category:
Contemporary: 5
Steampunk: 1
Fantasy: 1
Star Ratings:
5 stars: 18
4 stars: 35
3 stars: 17
2 stars: 6
Thoughts:
Um... nonfiction? Anyone? Anyone? Guys, I'm good with nonfiction! Why am I not reading more? Well, good thing our first book club pick of the year is a nonfiction choice. At least that number won't be zero next year!
Also, my adult books are going down and down and down every single year. And while I love all the YA I read, I don't want those adult books to get less and less. I guess I really need to concentrate on this issue!
My historical fiction category is very very lacking too. Must fix!
27% of my reading is of local Utah authors. How cool is that?
I gave a few less 5 stars this year, but not much. Sorry not sorry.
I don't know what else to observe. Everything is pretty much staying about the same as usual.
I didn't do as many review books this year, it felt like anyway, but still a good handful.
Last year I didn't do any read alongs, but this year I co-hosted three! So that was a nice improvement.
My goodreads goal was once again 90. Last year I managed 85. This year 76. Do you see a trend? I think I'll lower my goal next year. Sigh.
What other sort of number would you find interesting?
Top Ten Books of the Year
Usually I break this down between adult books and YA books, but since I didn't read very many adult books this year, it's all one list this time. And in no particular order. Links and blurbs from my own reviews.
The Martian by Andy Weir:
He didn't worry about word choice, or changing tense, or flipping in and out of different POVs . He just wrote the dang story and had the most awesome fun voice ever. And it worked. I loved it.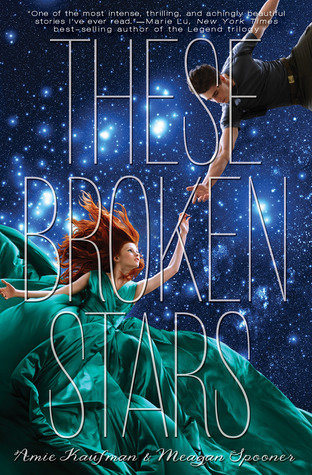 These Broken Stars: by Amie Kaufman and Meagan Spooner:
I was so into the romance, and these characters and the survival story ( I seem to be a sucker for those) and the weird scifi stuff going on that I just couldn't breathe and until it was all over.
Illuminae by Amie Kaufman and Jay Kristoff:
You get the voice of the characters, you get the intensity of the things going on, you get their romantic connection (even though they are on different ships) and you get the conflict. It's really amazing and like I said, so so awesome.
The Winner's Crime by Marie Rutkoski:
It's a painful book, to be sure. But the writing is so beautiful that it almost makes up for all the pain it's putting you through!
The Golem and the Jinni by Helene Wecker:
What fascinating characters with all their stories coming down to one crazy breath holding moment!
The Tightrope Walkers by David Almond:
The book makes my heart ache with both beautiful things and hard things.
Goodbye Stranger by Rebecca Stead:
And... I loved the writing. Gah, there's some amazing authors out there! And PS. I really loved this boy Sherm. Like, a lot.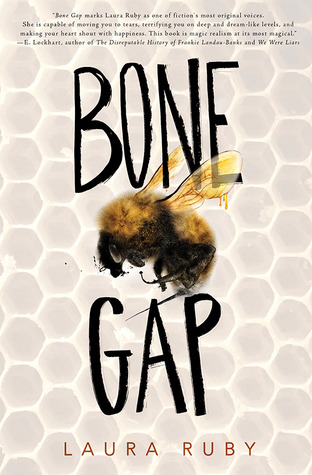 Bone Gap by Laura Ruby:
The writing is amazing and blew me away. I know there's a lot of deep stuff this book is saying, but I just sat back and enjoyed.
The Start of Me and You by Emery Lord:
I loved the whole "nerds are awesome" theme too. I mean, I really really loved that especially.
Stitching Snow by R.C. Lewis:
And the ending was a bite your fingernails off kind of ending. Yeah, it was all wonderful.
Bottom Line: Another awesome year of reading. Here's to next year! Bring it on!