Movie: Insurgent
Genre: YA Dystopian Drama
Starring: Shailene Woodley, Ansel Elgort, Theo James
Rating: PG 13
My Rating: One thumb up
I don't know, it was a fine fun movie, but I guess it didn't blow me away or anything. As my husband says, it's a middle movie/book, so what can you expect?
This movie is mostly about Tris having to deal with surviving all five (is it five?) tests that Janine puts her through in order to get the mysterious box open. The box with a message. The message that lets everyone know what's REALLY going on! Thus, much of the movie are these simulations and sometimes you get tricked into not know what's real and what's not and thus getting a little feel for what Tris is going through.
There's lots of Four to enjoy and lots of Caleb (aka. Ansel aka. Gus, which is really trippy after seeing TFiOS) to get frustrated with. Peter was also quite the fascinating character in this movie.
I don't know, but he kinda scares me.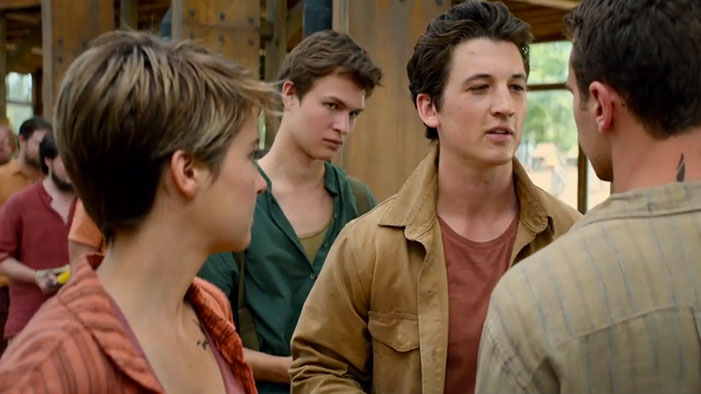 With Caleb and Peter
During a simulation
I didn't remember a thing from the book, which made for a better movie experience I think. Though I still have suspicions that the movie ended very differently from the book. I don't know. Someone (aka Jenni) will have to tell me.
Anyway, I still say see it. Go and enjoy!
Here's the trailer: