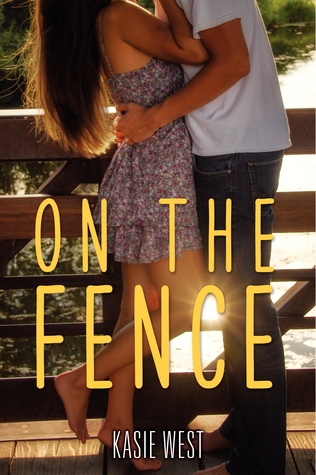 Book: On the Fence by Kasie West
Genre: YA Romance/Contemporary
Rating:
★★★★★ (I've decided to up this from what I gave it on Goodreads. So there.)
For: Review
From: Free copy received from Edelweiss. All opinions are my own!
(Released tomorrow, July 1, 2014)
Short Synopsis:
Thanks to her three wild brothers,Charlie has grown up quite the tomboy. She pals around with them and their friend Braden, doing all the boy things and fitting in quite nicely. But then she gets a job in order to pay off a speeding ticket and the job is a girly one. Suddenly, she is wondering who she really is. Confusing feelings! Not only that, there's something about her mother's death that everyone is not telling her. In order to deal with all these feelings, she starts meeting the next door neighbor, who just happens to be the aforementioned Braden, in the middle of the night at the fence. They are both suffering insomnia and what better way to talk through things then a good old fence chat! Well, and then something magical starts happening at the fence. And bam, things are even more confusing now!!
My Response:
Ah, my new favorite author! I love her simple, every day, ordinary teenage stories. And this is the prefect (and literal) boy next door story, and you know I love those. And even though it's simple, it also encompasses all the complicated feelings of teenager-hood, and done just right. And the love story? So much swoon to enjoy! Oh, there's not only Braden, but the brothers to swoon over. Lots and lots of brothers. And her writing style? It's exactly what I wish I could learn for myself. Sigh.
Bottom line:
I totally enjoyed it from beginning to end. Next book please! (No, this is not a series that I know of, but just... more Kasie West books please!)
Let's Talk About:
We talked about boy next door romances a few books ago. Should we talk about it again? Aren't they the best? Do you know anyone with an in real life boy next door romance? My neighbors across the street are an example, though I don't know their story except that they were friends when they were like 10 and 11 or something. Maybe younger. It would be fun to learn how that friendship changed and morphed for them. What is it about this sort of relationship? I just like that people who are friends for such a long long time can fall in love and become forever friends. It's so romantic.
Other Reviews:
On the Fence by Kasie West is a light, quick and charming read with an unusual girl, a wonderful family set up and with the most adorable romance!
From Bewitched Bookworms
It's a perfect summer book, with the cute romance and the drama and the sports.
From City of Books
This is an awesome book. If you love romances and great friendships, then you will definitely love this one.
From Books With Bite
The way her family stood strong for her was heartwarming though. I couldn't help but love them even more than I already had. I would love to see Charlie's brothers in some other books
.
From This Blonde Reads