One of the new things we thought would be fun to do for Utah Book Month (which starts this
weekend, by the way!) is to have a read along of a Utah Book. There are SO many to choose from! But we've narrowed it down to two debut Utah authors:
Not in the Script by Amy Finnegan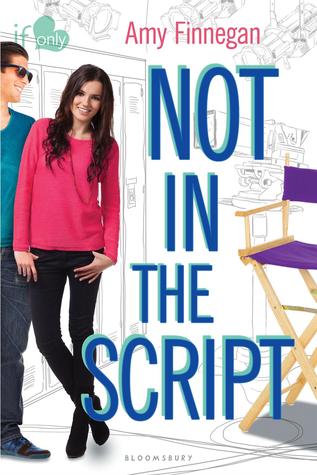 Millions of people witnessed Emma Taylor's first kiss—a kiss that needed twelve takes and four camera angles to get right. After spending nearly all of her teen years performing on cue, Emma wonders if any part of her life is real anymore . . . particularly her relationships.
Jake Elliott's face is on magazine ads around the world, but his lucrative modeling deals were a poor substitute for what he had to leave behind. Now acting is offering Jake everything he wants: close proximity to home; an opportunity to finally start school; and plenty of time with the smart and irresistible Emma Taylor . . . if she would just give him a chance.
When Jake takes Emma behind the scenes of his real life, she begins to see how genuine he is, but on-set relationships always end badly. Don't they? Toss in Hollywood's most notorious heartthrob and a resident diva who may or may not be as evil as she seems, and the production of Coyote Hills heats up in unexpected—and romantic—ways. -- Summary from Goodreads
___________________________________________
Ink and Ashes by Valynne E. Maetani
Claire Takata has never known much about her father, who passed away when she was a little girl. But on the anniversary of his death, not long before her seventeenth birthday, she finds a mysterious letter from her deceased father, addressed to her stepfather. Claire never even knew that they had met.
Claire knows she should let it go, but she can't shake the feeling that something's been kept from her. In search of answers, Claire combs through anything that will give her information about her father . . . until she discovers he was a member of the yakuza, the Japanese mafia. The discovery opens a door that should have been left closed.
So begins the race to outrun his legacy as the secrets of her father's past threaten Claire's friends and family, newfound love, and ultimately her life. Ink and Ashes, winner of Tu Books' New Visions Award, is a heart-stopping debut mystery that will keep readers on the edge of their seats until the very last page. -- Summary from Goodreads
And now, we'd love to know if you'd like to join us and then which one you'd like to read.
Tell us here if you'd like to join the read along:
And tell us here which one you'd like to read:
We'll break the book up into sections and have some discussions along the way, both on our blogs and on Twitter. We'll let you know the schedule as soon as we know which book is chosen. If you've joined us for a read along before, you know it's always a blast! We'd love to have you! Stay tuned for more info!