Yay for Jamie's year end book survey! If you haven't done this before, now is the time!
You can find the survey and the linky here at The Perpetual Page Turner.
It's a wonderful and fun way to ponder all the books you've read this year, not to mention remembering what you thought about them for future reference.
Here are my answers:

Number Of Books You Read:
As of today, I've read 84 books this year. I may finish one or two more.
Number of Re-Reads:
only 3 this year. I would have thought there'd be more.
Genre You Read The Most From:
YA fantasy and contemporary

1. Best Book You Read In 2014?
YA Speculative: All Our Yesterdays by Cristin Terrill
YA Contemporary Romance: On the Fence by Kasie West
YA Fantasy: The Winner's Curse by Marie Rutkuski
YA Historical Fiction: Out of the Easy by Ruta Sepetys
Adult Fantasy: Words of Radiance by Brandon Sanderson
Adult Literary Fiction: The Forgotten Garden by Kate Morton
Adult Romance: Attachments by Rainbow Rowell
Non Fiction: Unbroken by Laura Hillenbrand and As You Wish by Cary Elwes
2. Book You Were Excited About & Thought You Were Going To Love More But Didn't?
I would have to say Blue Lily, Lily Blue for this one. It just didn't move me as much as the other two did! Dang it! I still enjoyed it though, of course, just not to the level I did the others.

I was a little disappointed by The Infinite Sea too. Sigh.

3. Most surprising (in a good way or bad way) book you read in 2014?

I was most surprised I think by All Our Yesterdays by Cristin Terrill because I knew nothing about and expected nothing and then it blew me away.

4. Book You "Pushed" The Most People To Read (And They Did) In 2014?

I think I raved most about All Our Yesterdays by Cristin Terrill and All The Truth That's In Me by Julie Berry. Not sure I actually "pushed" them, but I did lots of gushing!

5. Best series you started in 2014? Best Sequel of 2014? Best Series Ender of 2014?

Started: The Winner's Curse by Marie Rutkoski. Gah. I hate waiting!
Sequel: Split Second by Kasie West was an awesome sequel to Pivot Point. Loved both of 'em.
Ender: Dreams of Gods and Monsters by Laini Taylor. Loved it! Loved the whole series.
6. Favorite new author you discovered in 2014?
Cristin Terrill who wrote All Our Yesterdays. I will be keeping my eye out for more by her!
7. Best book from a genre you don't typically read/was out of your comfort zone?
Maus, both parts, was the first "real" graphic novel I've read. I mean I've read a few, but not one that dealt with such a real subject, you know?
8. Most action-packed/thrilling/unputdownable book of the year?
Into the Still Blue by Veronica Rossi had me holding my breath quite a bit. I think I should list Unbroken here too. It was very unputdownable.
9. Book You Read In 2014 That You Are Most Likely To Re-Read Next Year?
You know, I doubt I'll re-read any of these books next year!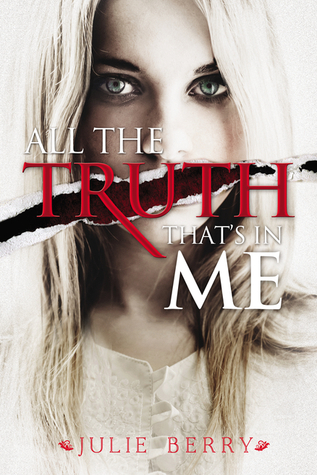 10. Favorite cover of a book you read in 2014?
I guess I'll go with All The Truth That's In Me by Julie Berry.
11. Most memorable character of 2014?
Ziri is that you?
Gosh, so many characters that I love! Captain Hook (Alias Hook), Kaladin (Words of Radiance), Judith (All the Truth That's In Me), Louis Zamperini (Unbroken), Em (All Our Yesterdays), Ziri (Dreams of Gods and Monsters).... I could go on and on.
12. Most beautifully written book read in 2014?
The Enchanted by Rene Denfeld was amazing. I also enjoyed the beauty of All The Truth That's In Me by Julie Berry.
13. Most Thought-Provoking/ Life-Changing Book of 2014?
Laughing at my Nightmare by Shane Burcaw was pretty thought provoking in that it truly makes you look at your life in a whole new way and feel grateful for all you have. The same goes for Unbroken I suppose!
14. Book you can't believe you waited UNTIL 2014 to finally read?
Unbroken for sure. I waited because I knew the book club had plans to read it, but it took us so long to get to it that I can't believe I actually waited!

15. Favorite Passage/Quote From A Book You Read In 2014?


"It was the first time either of them had ever held another's hand, and for them alone, the immensity of what unfolded that night was overshadowed by the perfect wonderment of fingers intertwined - as though this was what hands had always been for, and not for holding weapons at all."
― Laini Taylor, Dreams of Gods & Monsters
16.Shortest & Longest Book You Read In 2013?

Longest: Words of Radiance by Brandon Sanderson at 1,088 pages
Shortest: The Letters by Luanne Rice and Joseph Monninger at 199 pages
17. Book That Shocked You The Most
The Eye of Minds by James Dashner is pretty shocking in the end. I think We Were Liars was pretty shocking too, though there was so much talk and buzz about that ending that I think it dulled it a bit.
18. OTP OF THE YEAR (you will go down with this ship!)
Addie and Trevor in Split Second by Kasie West
Captain Hook and Stella in Alias Hook by Lisa Jensen
Braden and Charlie in On the Fence by Kasie West
19. Favorite Non-Romantic Relationship Of The Year
All the boys and Blue in Blue Lily, Lily Blue. This relationship is totally what MAKES these books so very awesome.
20. Favorite Book You Read in 2014 From An Author You've Read Previously
I really really love Kasie West's books and I read three more of hers this year and loved them all: Split Second, On the Fence and the Distance Between Us. I also really loved The Shadow Prince by Bree Despain.
21. Best Book You Read In 2014 That You Read Based SOLELY On A Recommendation From Somebody Else/Peer Pressure:
I loved Alias, Hook by Lisa Jensen recommended by
April from The Steadfast Reader.
Also, The Winner's Curse by Marie Rutkoski recommended by Kami and Jenni!


22. Newest fictional crush from a book you read in 2014?

Ah, there's always so many! Braden from On the Fence by Kasie West, Arin from The Winner's Curse by Marie Rutkoski, and Trevor from Something About Love by Elana Johnson, just to name a few.
23. Best 2014 debut you read?
Probably The Winner's Curse by Marie Rutkoski. I'm sure there are others I loved too!
24. Best Worldbuilding/Most Vivid Setting You Read This Year?
Words of Radiance by Brandon Sanderson of course! Could there be any other book? :)
25. Book That Put A Smile On Your Face/Was The Most FUN To Read?
I think I'd have to say the Donner Dinner Party by Nathan Hale, despite the grizzly subject matter!
26. Book That Made You Cry Or Nearly Cry in 2014?
Maus was pretty sad. Not sure I actually cried but I felt like it. Can't remember if any other books made me feel weepy. I probably talked about feeling weepy on some of my reviews, but now I can't remember! Unbroken probably made me weepy when he came home and hugged his mom!
27. Hidden Gem Of The Year?
Something About Love by Elana Johnson... written in verse and only on Kindle. And I loved it.
28. Book That Crushed Your Soul?
I can't seem to come up with any book that "crushed my soul" this year. The Catcher in the Rye comes close because I feel so terrible bad for Holden every single time I read that book! Though I wouldn't call it soul crushing.
29. Most Unique Book You Read In 2014?
Probably the two skinwalker books I read! Very different. . .interesting. . . but different!
30. Book That Made You The Most Mad (doesn't necessarily mean you didn't like it)?
Panic by Lauren Oliver made me kind of mad because I can't believe kids would truly be so stupid!
Also, Ezra and Hadassah is story that made me mad because hello, it's about abuse. But it's also inspiring because it's about overcoming. Wintergirls by Laurie Halse Anderson also makes me a little on the mad side.

1. New favorite book blog you discovered in 2014?
I would have to say I've "re-discovered"
Belle from Ms. Bookish,
who I knew of but didn't read a whole lot before this year. And now I'm addicted especially since she is writing awesome posts every day lately! And every single one of them makes me want to go and do awesome stuff!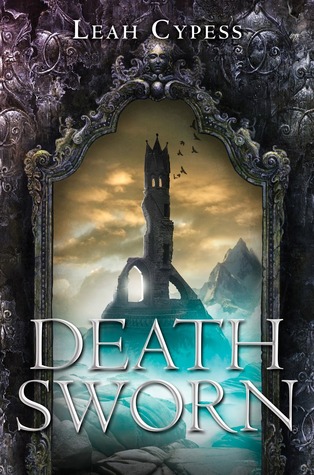 2. Favorite review that you wrote in 2014?
I quite liked the review I wrote for
Death Sworn
... way back when. I almost forgot about this book, and then... look at that review!
3. Best discussion/non-review post you had on your blog?
My Walking Dead discussion posts were fairly successful, with
this particular post on episode six
getting the most hits.
4. Best event that you participated in (author signings, festivals, virtual events, memes, etc.)?
Bloggiesta of course!!! :) And LTUE and... Cary Elwes and Laini Taylor, and ah, so many!
5. Best moment of bookish/blogging life in 2014?
I did a post the other day
highlighting all my best bookish blogging moments of the year,
but if I had to name a best one I guess it'd be
Cary Elwes
because... sa-woon.
7. Most Popular Post This Year On Your Blog (whether it be by comments or views)?
Another "My Library" Post,
in which I share a fun video that my library made got the most views this year. I have no idea why. Where are people finding this stuff!
I didn't really discover anything new this year. It's got to be something very new and different for me to get excited and so far I think everything is just a play and stuff we already have, you know?

10. Did you complete any reading challenges or goals that you had set for yourself at the beginning of this year?
I'm just a bit short of my Goodreads goal, but I still did pretty good! I didn't join many other challenges this year.
1. One Book You Didn't Get To In 2014 But Will Be Your Number 1 Priority in 2015?
Wonder, and Life After Life and Willow Song. And . . .
2. Book You Are Most Anticipating For 2015 (non-debut)?
I don't know! You tell me!
3. 2015 Debut You Are Most Anticipating?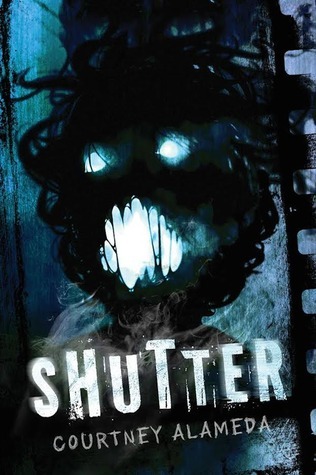 Probably Shutter by Courtney Alameda, though I've had it on my Kindle for awhile now and just need to read it!


4. Series Ending/A Sequel You Are Most Anticipating in 2015?

The Winner's Crime so that Winner's Curse story can continue! Also the next book after The Shadow Prince by Bree Despain. I'm assuming that comes out this year? And the Fifth Wave books... do they end this year? I'm actually pretty clueless about these things.


5. One Thing You Hope To Accomplish Or Do In Your Reading/Blogging Life In 2015?

Just keep on keepin' on... and get 85 to 90 books read again!


6. A 2015 Release You've Already Read & Recommend To Everyone:

The only one I've read is Cut Me Free by J.R. Johansson but I haven't begun to recommend it yet. So... READ IT PEOPLE!
Whew. This survey is hard. Anyway, there you have it!