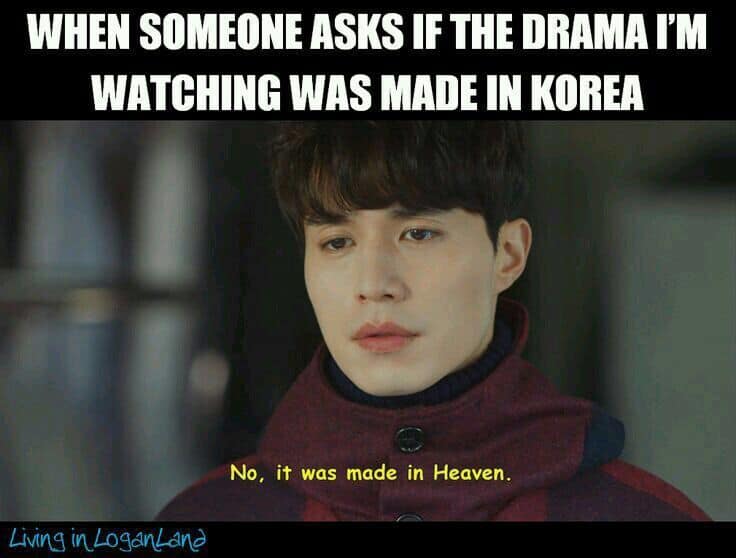 Hey everyone! I was on a podcast! Mark that one off the bucket list! LOL! My friend from book club hosts a lovely podcast all about the love of Hallmark movies (link to this Hallmarkies Podcast here!) and she thought it would be fun to have a little bonus episode about kdramas. I know their audience would totally love kdramas, so I jumped at this chance to talk them up! Here's hoping we drag in a few more fans!
Anyway, in preparation for the this, I asked a Facebook group I recently joined the question: Why do you like Kdramas, and what are some of your favorite tropes/themes? I thought it would be fun to share their responses:
Reasons We Love Kdramas:
show a more innocent lighthearted view of the world
short series... beginning, middle and end
escape from reality
dramatic and intense, but without gratuitous sex scenes
complete story arcs
amazing character growth
awesome story telling
so much content
universal stories told through the view of another culture
character and relationships are more part of the plot
romantic and sexual tension
like reading a book
doesn't depend on a shock factor
serious themes
smaller industry, familiar with actors
Korean culture
so romantic
original
funny
less foul language
slow burn romance, leading up to the kiss
men who wear their hearts on their sleeves
amazing music
2 episodes each week
minimal drug usage
how to live well, or what it means to be human themes
children connected to parents theme, family values
beautiful actors
great writing, poetic
fun fashion
crazy good talent
still follow a moral code
consequences for bad behavior, rewards for good
positive and good outlook on life
depth
plot twists
easy to watch with your family
cinematography
Tropes, Themes and Genres We Love:
piggy back rides
enemies to lovers
poor girl/rich boy
wrist grabs
accidental kisses
evil mothers
secret births and secret identities
amnesia
childhood sweethearts/fated love
contract marriages
white truck of doom
wall push
hide in a small space
when the ML takes a bullet for the FL
ghosts
fantasy
body swaps
time travel
genderbending
love of books
relationships
clenched fists
drunken confessions
interfering parents
orphaned characters
going out to eat
tender face touches
treating wounds
stress nose bleeds
first love fate
revenge plots
rain and umbrellas
strong fighting girls
lawyer shows
psychological thrillers
hospital confessions
love triangles
There you have it! Almost every drama has an element of things of these lists. And we as viewers look forward to them and expect them. It's part of the experience. And we absolutely love it!
If you are looking for recommendations on where to start, I made another list:
Kdrama Recs from ones available on Netflix
(Some I've seen and loved, some I haven't yet but have heard a lot of buzz about)
Rom Coms
Cinderella and the Four Knights
Boys Over Flowers
Because This Is My First Life
My Shy Boss
When the Camellia Blooms
My First First Love
Historicals
Rookie Historian
Mr. Sunshine
My Country
Kingdom
Chicago Typewriter
Suspense/Mystery/Crime Thrillers
Stranger
The K2
Black
Prison Playbook
Signal
Voice
Fantasy/Paranormal
A Korean Odyssey
Mystic Pop-up Bar
Memories of the Alhambra
Oh My Ghost
Drama
The King: Eternal Monarch
Itaewon Class
Crash Landing On You
Chocolate
Hospital Playlist
It's Okay to Not Be Okay
One Spring Night
And if you actually click and watch your very first drama, here are a few terms to get familiar with things. These are just a very few... this list could be huge if were to actually jump into teaching some Korean terms and words you'll hear. But this is a start!
Kdrama Terms and Korean Terms in Dramas
Sageuk: historical/period drama
OST: music from a drama
Noona romance: older girl/younger guy
CF: commercial film/advertisement
ML: male lead
FL: female lead
SL: second (male usually) lead
Second Lead Syndrome (SLS): having your heart break when the second lead doesn't get the girl
CCTV: Closed Captioned TV (always a factor in the crime dramas especially)
Oppa: what girls call their older brothers... and boyfriends
Noona: what boys call their older sisters
Hyung: what boys call their older brothers
Unni: what girls call their older sisters
Sunbae: senior
Hoobae: junior
...nim: what you stick on the end of a name or title to show respect, formal (like sir/mam)
...shi: what you stick on the end of a name to show respect, less formal (like Mr/Mrs/Ms)
...ah/ya: what you stick on the end of a name to show closeness and endearment
Omo: Oh my!
Aigoo: Oh dear
Hwaiting/Fighting: Let's do this! You got this! Good luck!
Hopefully, you'll be intrigued!