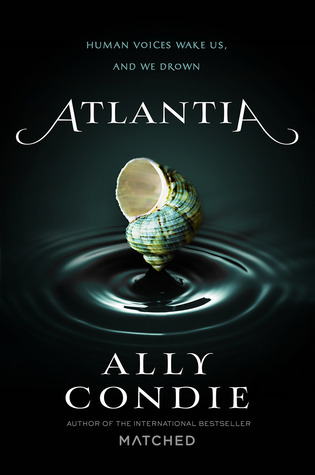 Book: Atlantia by Ally Condie
Genre: YA Dystopian
Rating:
★ ★ ★ ☆ ☆
For: Fun and to Support Local Authors
From: Bought at the launch party a month or so ago
Short Synopsis:
When the world started being too harsh to live in, the people sent some of their loved ones to live in a city below the water. They stayed above to send them supplies, knowing that they were sacrificing their lives so their families could live. Many years have passed and the city Below, Atlantia, is dying. Only a miracle can save them. Even though Rio has spent her whole life wanting to go Above, it appears she might be Atlantia's only hope.
My Response:
It took me awhile to get into this one. A very slow moving book. But rich and beautiful in its description and world building. Also, very religious. This was something I wasn't expecting. The people below have created quite the stories and myths and strong base for their religion. Rio, our character, is deeply entrenched in this culture. It's a fascinating look at our own society and culture, and sometimes maybe too deep for me to even grasp. But I enjoyed the story and the relationships, especially what is said about sisters.
Bottom Line:
I enjoyed it, though I must say, I wasn't glued to the pages.
Let's Talk About:
Sisters! What do you think? Do feel there's a special bond with sisters? Are you lucky enough to experience this? Tell me about it!
Other Reviews:
Though the plot is not particularly remarkable, the story sets itself apart from other books on the YA market with its elements: sisters driving the narrative instead of a love triangle, a protagonist who works with machinery and is not considered unfeminine, and a love interest who genuinely works for the good of the protagonist and is not around just because "romance sells."
From Pages Unbound
All of the elements that made the underwater city work and evolve fascinated me, and I loved seeing the blend of mythology and futuristic science.
From A Backwards Story
The writing is vivid and rich, the world is fascinating, and Rio's story is compelling from the first page.
From YA Book Queen
As she searches for her sister, she uncovers some pretty shocking family secrets, including one that involves the leaders of Atlantia. It was a good combination of personal strife and political intrigue.
From Ex Libris