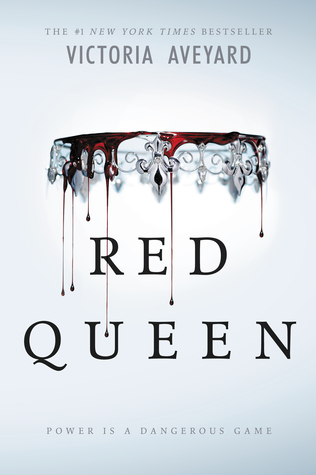 Book: Red Queen by Victoria Aveyard
Genre: YA Fantasy/Distopian
Rating:
★ ★ ★ ★ ☆
Once again, we have the dystopian world setting. People are divided into two groups: those with red blood and those with silver. The Silvers have superpowers, all sorts of types. And course, they have taken control and rule over the red blooded "normal" people. And there's a war on. And of course, the Reds have to go and fight in this war when they become a certain age. The book opens just as our heroine, Mare, is reaching this age (18 I think it is.)
But she plans to run away instead. And take her "friend that's a guy" with her.
But things go wrong and she gets caught because of a Red rebellion that happens right at the wrong time.
And bam, things change SO FAST from there! Like so fast that it made my head spin. I was definitely into the story, but I was like, can all this really happen this fast?
The story is filled with lots of edge-of-your-seat type action and really cool in-your-head special effects. The Silvers like to fight each other with their powers and it's crazy! And in the middle of all that, there's a sort of selection going on between the girls for who gets to marry the prince, though the prince doesn't really get to select. Because there's an evil queen and all. Sigh. Evil queens always ruin everything!
I really enjoyed the story even though I felt it is much of the same thing that we've seen a lot of lately. People are really into these sorts of stories right now!
Bottom Line:
And you'll love it too if you are one of those people! So far, I am!
Other Reviews:
One of the best things about Red Queen is that even though the storyline is fairly predictable and extremely familiar to fans of the genre, readers will not care about that.
From That's What She Read
It has the oppressive society, the downtrodden young woman who finds herself a pivotal member of society, and of course romance – lots and lots of romance.
From Fantasy Book Critic
This book is phenomenal! It completely sucks you in.
From Mindful Musings
It's cliche YA fantasy, but debut author Victoria Aveyard does it well.
From In Bed With Books