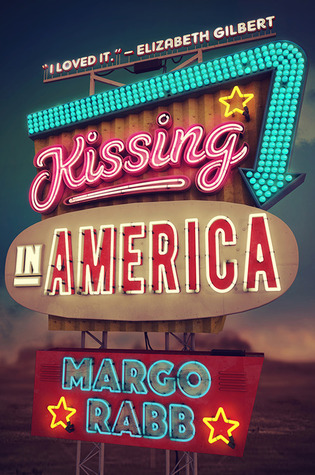 Book: Kissing in America by Margo Rabb
Genre: YA romance
Rating:
★★★☆☆
For: Beehive award long list
From: the library
Short Synopsis:
The guy that Eva has liked forever suddenly takes an interest in her. But then he moves to the other side of the country. So now it's her mission to go visit him. She ends up getting her friend accepted to a girls quiz show and they somehow get permission from their parents to ride the bus to get there. (She's terrified of flying because of how her dad died.) So most of the story is the experiences they have getting there and the things they learn about themselves and life and people as they go. She loves romance novels, so everything she sees and does is compared to them. Which is quite fun.
My Response:
I ended up being a little bit disappointed in this one. I expected it to be a more fun sort of book, but it was actually a little depressing and sad. The title is definitely misleading. There's hardly any kissing in this story! I mean it's pretty good for a coming of age, life learning story, but I was totally not in the mood for that at the time. But I enjoyed it anyway, for its characters, its look at the personality of the country, and its bittersweet ending.
Bottom Line:
If it crosses your path, go for it! It's a sweet story.
Let's Talk About:
If you saw this cover and this title, what do you think it would be about? Does it bug you if a title doesn't quite match the story?
Other Reviews:
If you love quirky road trips, you might want to try this out.
From YA Romantics
...readers will experience the highs of infatuation and the lows of heartache as Eva contends with love in all its forms.
From Cynsations
At its core, I suppose it's a novel about grief, family and friendship, but considering I started the novel thinking the author had something really important to say, by the end I was still unsure what it was.
From Words Read and Written
Considering our MC loses her father at 14, she feels such a wide array of emotions and Margo Rabb does an EXCELLENT job of portraying those feelings because at times while I was reading I had to put the book down because it was so emotionally draining to read.
From Flying Through Fiction