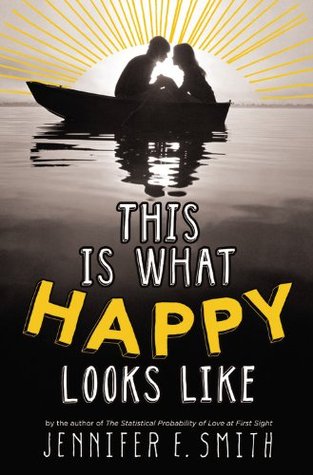 Book: This Is What Happy Looks Like by Jennifer E. Smith
Genre: YA contemporary romance
Rating:
For: readathon
From: bought with B and N gift card awhile back
Short Synopsis:
Ellie accidentally gets an email from some dude about his pet pig. They enjoy bantering with each other and continue the emails, even though they have no idea who the other is. They hope to meet someday. (Sounds a little like You've Got Mail, The Shop Around the Corner and She Loves Me, am I right?) Some day happens when the boy, Graham, shows up at Ellie's small town as part of a movie production. And just happens to be the movie star. The teen heart throb. The famous dude. Ellie is blown away and pretty much wants nothing to do with him at first. But then, she changes her mind. And changes it again. It's kind of a mess. But a fun one.
My Response:
Ah, what a perfectly fun book for the readathon. Mostly fluff, a little serious, lots of angst, banter, and romance. I sailed through it. The story and the writing isn't like WOW, but it's engaging and lovely and what else can I say?
Bottom Line:
I totally enjoyed it. If you enjoy contemporary YA, read it!
Let's Talk About:
Guys, I can't think of anything specific to "talk" about for this one! Some books are like that, right? They just are and you just say, that was cool. And move on! We could talk about what happy looks like for you.
I did a whole post on that the other day!
Other Reviews:
It's weird but I really like the whole strangers who know nothing about each other but their words trope.
From Good Books and Good Wine
To watch their love unfold with sweetness and hardships, defines both characters.
From
Books With Bite
I have to say that I was actually impressed by this one.
From Bookshipper
But when they both figure out how to reconcile the person they see with the person they know, their interactions become as sweet as possible.
From Reader's Dialogue