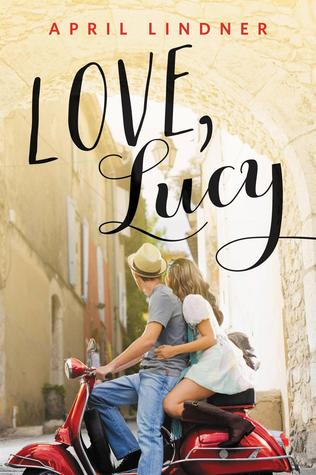 Book: Love, Lucy by April Lindner
Genre: NA Romance
Rating:
★ ★ ☆ ☆ ☆
For: Fun
From: the library
Short Synopsis:
Lucy and her friend have been backpacking through Europe for a few weeks. When they come to Italy and her friend moans about getting a "room with a view" they end up kicking a couple of guys out of their room. Well, Lucy hooks up with one of them. . .Jesse! And has a whirlwind Italian romance! Her very own Roman Holiday. But then she has to go back home and start college, which her dad is forcing her to do. She loses track of Jesse and just when she thinks she has got her life all together, sort of, he shows up on her doorstep.
My Response:
Ah, it was lacking so much for me! I enjoyed the fact that it is set (some of it anyway) in Florence and Rome, which is cool, but other than that, I didn't take to it. I remembered her other books were re-tellings of classics, so I thought it would be fun to see which one this was. I had no clue through the whole thing and finally had to look it up somewhere. (I gave a very obvious clue up above!) But, it was lacking emotion. Like the romance was just. . .bam. With no emotion at all. I just did not connect. Maybe it was not a good book to read right after The Winner's Crime. Yeah. That was probably it.
Bottom Line:
I suggest you skip this one. Sadly
Let's Talk About:
Reading not so good books after really awesome books. Life is not fair to some books, you know? Has this happened to you? And your poor books?
Other Reviews:
A fantastic book with a perfect summer romance and the choice between a safe future and following your heart.
From YA Book Nerd
I did enjoy the story, but Lucy annoyed me more than once with her immaturity.
From Alexia's Books and Such
Vespas, cute boys, gelato, discovering your dreams, living your dreams, it's all in Love, Lucy.
From Book Sp(l)ot Reviews
It was sweet, uncomplicated and relatable, especially as Lucy struggles to choose between a new love interest and the wild Jesse.
From Write Meg