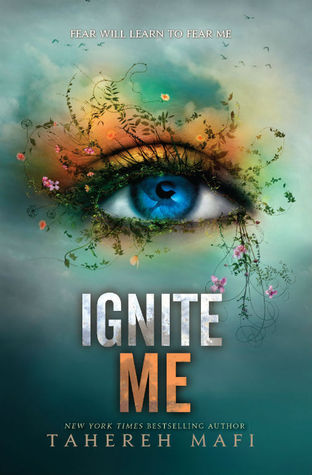 Book: Ignite Me by Tahereh Mafi
Genre: YA Dstyopian
Rating:
★ ★ ★ ★ ☆
For: Fun
From: Bought it
Short Synopsis:
This is the third of a crazy exciting series, so beware spoilers for the first two. So Juliette wakes up from the shooting incident that ended book two. And Warner is taking care of her. Yeah. And then he tells her how the compound she's been staying at has all been destroyed, with everyone it. Juliette freaks out, but of course, it turns out to not be quite as bad as she thinks. Which means, of course, that she has to deal with the Warner/Adam issues. Yeah. Awkward!! And once she deals with that, she has to figure out how to take down the corrupt government once and for all.
My Response:
Well. This is one of those series that I felt just got better and better as it went along. The first book was okay, but as Juliette grew. . . and as we got to know Warner, the books got better. And I know some people are sick to death of the love triangle thing, but I must say, I was very much into this one! And I think I said this before for my review of the second book, Warner is one of the best and most fascinating characters ever. Not to mention hot and steamy. I sort of want to go back and read all three books again now that I know what I know.
Bottom Line:
Great ending to a fun series. I hope, in fact, we might even get more someday.
Let's Talk About:
Are you REALLY sick of love triangles? I mean, really? Or, are you okay with them if they are done well and involve interesting characters? I, for one, am okay.
Other Reviews:
Well done. Well done on her writing style, on her character development, on her plot twists, on her world building, and the pacing and for finishing a series of Novels that has the ability to take my breath away and scream and cry and get excited and shocked.
From Page Girl's Page
Normally love triangles REALLY annoy me. And I guess in a way there was that kinda love triangle thing happening in the Shatter Me series, except it was done right. It was done the way it always should have been done. At some points in this book, the things I was reading in this book hit me so hard that I was actually feeling heartache.
From Book Nerd Reviews
Warner. I don't even know what to say but I'll try to be coherent! Warner is one of my favourite YA characters of all time. No doubt.
From City of Books
On a final note, Tahereh Mafi is very good at hot scenes, let me tell you.
From YA Book Queens