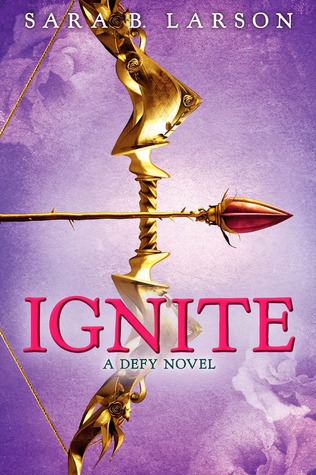 Book: Ignite by Sara B. Larson
Genre: YA Fantasy
Rating:
★ ★ ★ ★ ☆
For: Fun and Support Local Authors
From: Bought at the launch party
Short Synopsis:
When we left Alexa at the end of the first book, Defy, she had just helped Prince Damian overthrow his tyrant of a father. She had also just told him (Damian) that she didn't love him. Which, of course, was a complete lie. So this book starts out with her trying to live that lie and simply be his guard and nothing more. He has since become king and everyone thinks all is well. That is, until a strange visitor shows up on their doorstep, a beautiful lady that seems to want the king in more ways than one. Alexa freaks out and knows something is up, though she's not sure the king has the same feelings. Meanwhile, the king's little brother is kidnapped and of course, the two events are connected. Now Alexa must save the brother and in so doing, she just might have to fess up to her true feelings for the king.
My Response:
It was a little slow to start given the catching up that was necessary in order to reestablish the reader to this world and the political happenings therein. Once that was accomplished, it started to pick up and I pretty much flew through it. I enjoyed the intensity between Alexa and Damian. I enjoyed the sword fighting and the edge-of-your seat moments throughout. I enjoyed the magic. I enjoyed everything!
Bottom Line:
Fun characters, fun world and lots to.... you guessed....enjoy!
Let's Talk About:
Don't you worry about middle books in a trilogy? Don't you love it when the second book holds up to the first one just fine? Yeah, me too.
Other Reviews:
This series is one of my all time favorite high fantasy series and I would highly recommend it to anyone looking for a beautifully written story full of imagination and romance.
From Dark Faerie Tales
It's filled with love, romance and heartbreak but also our heroes have to face impossible and cleverly constructed dangers that altogether create an outstandingly brilliant follow-up to Defy!
From Bewitched Book Worms
Ignite did not suffer from "second-book syndrome" in the least bit. It was a strong book that added a lot to Alexa's story.
From Jenni Elyse
I have all the feels and I think Ignite broke me. It was just so perfect and everything that a book 2 in a trilogy should be.
From The Book Cellar