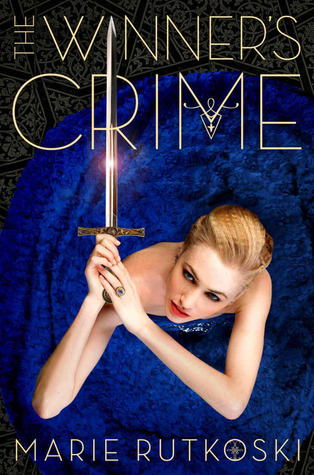 Book: The Winner's Crime by Marie Rutkoski
Genre: YA Fantasy- ish
Rating:
★ ★ ★ ★ ★
For: Fun
From: bought at Amazon
Short Synopsis:
(Spoilers for first book The Winner's Curse!) This book starts up shortly after we left off the first book. Kestrel is stationed in the palace of the emperor and is expected to marry his son. To celebrate the engagement, everyone is invited to party. Guess who shows up? Arin, yep. And they are both hurting and Arin is not sure what's going on with Kestrel, but whatever it is, he knows something is up and he's determined to get it out of her. She is determined to never tell him the truth. Meanwhile, she starts spying for his country (by way of his assistant guy) and you know, maybe that's not such a smart idea Kestrel! Oh, and bad stuff happens with her dad. And bad stuff happens with other people too. Pretty much this book is all bad stuff.
My Response:
It's a painful book, to be sure. But the writing is so beautiful that it almost makes up for all the pain it's putting you through! Arin and Kestrel only have maybe three encounters this whole book and each one just makes things worse! If only Kestrel would tell him what's up! And then when he figures it out on his own, it's one of those situations where you, as a reader, are so anxious for things to work out that you are closing the book to pause for breath. . .often! So basically, it's a great book! The characters are awesome and I'm fascinated with their whole situation. Be warned, the cliff hanger in this the second book is much worse than the one in the first book. Much worse.
Bottom Line:
Read this series! Maybe wait until next year and then read all three at the same time!
Let's Talk About:
Do you enjoy reading books that are painful? Like your heart is just breaking for what the characters are going through? Or is there a fine line between good heartbreaking emotion and emotion that is just too too much?
Other Reviews:
I can only describe this book in one word: AMAZING!!
From Books with Bite
It's fast-paced, intriguing, and held my interest from start to finish.
From Proud Book Nerd
A ton of emotion. And a truly excruciating cliffhanger. I can't believe I have to wait a year for the final book!
From YA Romantics
. . .absolutely phenomenal with twists, turns, and so many secrets! Two lovers who have to be apart and pay the ultimate price for the safety of an entire country!
From Bewitched Bookworms
But the characters are everything in this series. They're well rounded and full of flaws. And their flaws cause major problems.
From Read This Instead
Throughout the entire book there is so much tension and no reprieve. There was no moment to breathe or calm down.
From Kami's Library Thoughts