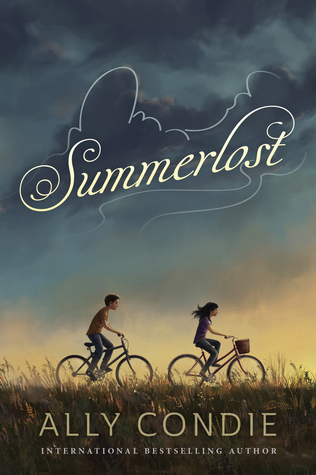 Book: Summerlost by Ally Condie
Genre: MG contemporary
Rating:
★ ★ ★ ★ ★
When I realized that Ally Condie based this book on her Utah hometown and centered it around Utah's famous Shakespearean Festival, I couldn't wait to read it! It got bumped up the stack! And it did not disappoint!
This is the story of a young girl named Cedar who comes to this small town for the summer. Her brother and father have recently died in a car accident and the rest of her family is trying to get a new start. They've bought this old house and plan to spend summers here and rent it out to college kids the rest of the year.
Every summer in this small town there's a festival that happens called Summerlost. Cedar ends up getting a job working concessions along with the neighbor boy that she at first finds nerdy and then finds fascinating. They have some sweet adventures together and learn how to deal with their respective issues in the process. It's the start of a beautiful friendship!
Bottom Line:
It's cute simple story that deals with the not so simple subject of grief. and it's so so awesome. I loved it.
Other Reviews:
A strong and outstanding novel for middle grades, this book takes a courageous look at grief and the resilience it takes to continue to live.
From Waking Brain Cells
It was hard to read at certain points because it is a highly emotional book but it's so worth it.
From Twenty Three Pages
"
Summerlost" is quiet and tender. You never feel rushed nor do you feel a lack of purpose. Ally has created a story of friendship and family that rings true whether you have experienced loss or not.
From Cracking the Cover