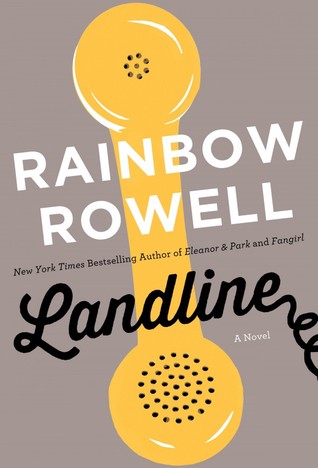 Book: Landline by Rainbow Rowell
Genre: I have no idea... contemporary romance with a magical twist?
Rating:
★★★★☆
For: fun
From: the library
Short Synopsis:
At the last minute, Georgie stays home from going to her inlaws with her family for Christmas. She has to work, so she sends her husband, Neil, and her two kids on their way. But she feels bad, so she calls them a lot. Except, her cell phone is dying, so she uses the landline at her mom's house. And bam, suddenly she's talking to Neil from the past during the Christmas week they almost broke up fifteen years ago. When she calls the cell phone, she gets her kids, but her husband (in the present) is never available. This pretty much makes her crazy. She ends up not even really working after all and obsesses about talking to the Neil of the past with the hope that somehow it fixes the relationship she has currently with Neil of the present.
My Response:
Awesome!!! What else could it be? I mean, this author can pretty much do no wrong. What I find the most fascinating about her books, this one included, is all the normal every day life detail she manages to include, all the day to day things that makes her characters so real and so relateable. She makes it seem so freaking easy! And before you know, you are totally invested! This is really a simple story with the little landline twist that makes our main character remember why and how she fell in love with this guy in the first place and it makes all of us who've been in long time relationships wish for such magic landline. Can you even imagine going back and talking to your significant other in the past. You are you NOW and he is him THEN? It's the coolest concept. It's almost creepy in a way, you know. Oh my word. I love it.
But that aside, this is an awesome book that makes you look at your normal life and not take anything for granted. Enjoy the journey. Enjoy the everyday moments. Enjoy what you have because when you don't have it, you'll miss it. It's a great message in the end.
Bottom Line:
It's no surprise that this is an awesome story that really makes you think.
Let's Talk About:
What about you? What would you think about going back in time to talk to your significant other before you were together? (Especially if that was quite a long time ago!) Good? Bad? Scary? Creepy?
Other Reviews:
I think Rowell is just outstanding at crafting dialogue that is fast-paced and wickedly funny but yet still realistic. Her insight into relationships is excellent as well.
From Rhapsody in Books
I love how much attention Landline gives to the process of making your life fit with another person's; of choosing to make things works day after day.
From Things Mean A Lot
Overall, I liked this one better than Fangirl but not as much as Eleanor & Park. It has its moments but like I said, it's a quick, fun read and a perfect way to spend a pleasant afternoon.
From Book Chatter
I love how Rowell is able to, seamlessly, take us through the course of a marriage and the emotions she inspires are so raw; they demand to be felt.
From Ivy Book Bindings