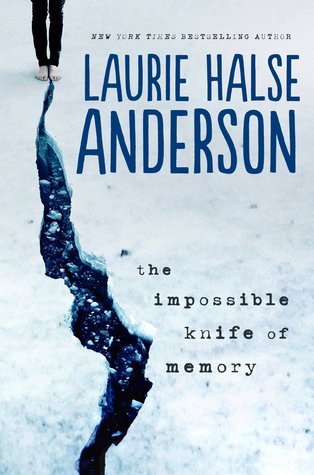 Book: The Impossible Knife of Memory by Laurie Halse Anderson
Genre: YA Contemporary
Rating:
★ ★ ★ ★ ☆
For: The Beehive books
From: The library
Short Synopsis:
Hayley has been on the road with her truck driving dad for years. Now he wants to settle down and have her go to actual school for her senior year. She is finding it a bit hard to "settle down." Her dad has issues (he's a war vet and suffers nightmares and drinking problems and all of it) and she has to take care of him. She doesn't have time for school. But a guy comes along (who has his own issues of course) and he manages to help her... to a point. Things come crashing down anyway.
My Response:
Like most LHA books, this one deals with some pretty deep and hard stuff. It was a little hard for me to get into at first and I was fighting the fact that I'd chosen to read this heavy story. But then I was hooked and had to keep reading to see what happened. Hayley is not a likable narrator, but she grew on me. I did enjoy Finn though. He is a much nicer character than she is! Anyway, beware the hard stuff and the language. But as most of these books do, it ends with a feeling of hope and happiness. :)
Bottom Line:
Another great thinking book by this author. If you liked the others, you'll like this one.
Let's Talk About:
Dysfunctional parents! Wow, there's a lot in these YA books these days! Do you sometimes get tired of them? Or is it truly mirroring reality? I don't know. I do know that some kids DO have fairly normal and nurturing parents, but those types don't make a very good story, sadly.
Other Reviews:
I've never read a book about PTSD before and it was very eyeopening for me.
From Good Books and Good Wine
Laurie Halse Anderson has written a powerful, unforgettable look at the after effects of war on families, the strength of friendship, and the importance of never giving up hope.
From Beth Fish Reads
More guys need to learn from Finn if they want to handle a 'tough, hard to get' girl and ask her out on a date.
From I Prefer Reading
This book is deep, dark and haunting.
From Waking Brain Cells