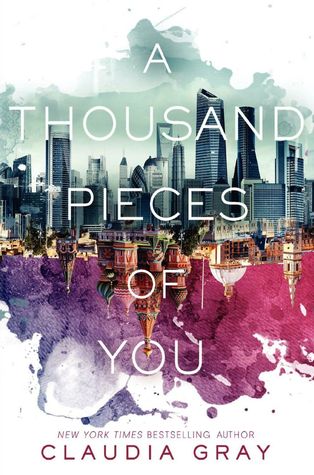 Book: A Thousand Pieces of You by Claudia Gray
Genre: YA Science Fiction
Rating:★ ★ ★ ★ ☆
For: Review
From:

Received for free from the publisher. All opinions are my own.
Short Synopsis:
Marguerite's really smart physicist parents have created a device that allows its wearer to jump between dimensions. Not time, but alternate universes... places were other copies of people exist depending on the decisions they've made in their lives. As the book opens, Marguerite is stark raving mad because someone, and she thinks she knows who, has killed her father in order to get their hands on this technology. And now he's escaped to other realities. She and her friend Theo are off to travel through these alternate realities, in order to find him and perhaps kill him. Hang on for the ride!
My Response: Awesome! I loved this story and could not put it down. I've read a lot of time travel books but not much about alternate reality travel. This is sort of new, yes? And the other versions of Marguerite live in some pretty interesting places. The romance is especially swoony too and the twists, while not over-the-top mind boggling, are nevertheless very satisfying. There was a bit of science explaining in the beginning, which I have a short attention span for, but it was over quickly and the story moved along despite it, so it turned out okay.
Bottom Line: I loved it and found the adventure to be a blast to experience.
Let's Talk About: This made me wonder about other alternate reality books. This one is being compared to Cloud Atlas, which I have not read. Any others you can think of that you'd like to make me aware of? This just might be my new favorite thing! How about you? Are you a fan of such a thing? Would you want to see what your alternate lives could be? Does that thought make you crazy?
Other Reviews:
If you're looking to test yourself with a more complicated plot and multi-dimensional characters, A Thousand Pieces of You is definitely the way to go.
From Fiction Folio
Just read the book! Especially if you love science fiction. Because you will adore this then.
From City of Books
It is an intricate story that keeps you on your toes.
From Bloody Bookaholic
All of that made this fun, but what really blew me away about his book was the romance. In between all of the parallel universe jumping, there is a really wonderful romance that blossoms.
From Ex Libris
Giveaway:
I ended up with two copies of this lovely book, so that means I get to give one away! As usual, I like to keep my giveaways very simple, so please fill out the form below with your info if you are interested in winning this book. I will pick a random winner in
ONE WEEK (next Friday Nov. 14th)
and let you know by email if you win. Good luck!!