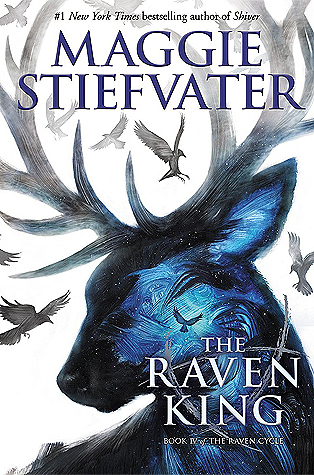 Book: The Raven King by Maggie Stiefvater
Genre: YA Fantasy
Rating:
★ ★ ☆ ☆ ☆
Wow, but I struggled with this one. I wonder how long it took me to read... over a month I think. And I was so looking forward to this conclusion of a series I loved. Ah. Sad.
So in this final one, Gansey accomplishes his goal. Blue's dreaded thing happens. Rowan dreams up some things and some bad stuff happens. Adam seems to be the one in charge of the magic. And a couple gets formed that was so completely unexpected for me! Um. Yeah. I have no words for this. Well, actually, I do have words, but I'm not sure you'll like them.
My most favorite part of this book was the introduction of a new character, an addition to the Raven Boy clan... HENRY! AND HE'S... wait for it... KOREAN! So, yeah. I loved that. Many references to Korean words and food and kpop. Loved it! And Henry was awesome too. Just...I loved him after only a few pages. He's great. I probably have a picture of him in my head that looks something like this:
Maybe because this boy's name is Henry too?
Maybe?
It works for me....
But guys. The magic stuff in this one... shall we say... bored me? Went over my head? Was too much for me? Didn't make sense? Made me crazy?
Something. All of it. I don't know. I enjoyed the scenes with Blue and or the boys, but every time one of those aunt characters, or the men in their lives appeared, I was like.... skim skim skim. That's sad, yes? I don't know.
And the kissing? Not what I wanted at all. Lacking. And... just... Adam. My favorite. Seriously? That's all I'll say about that....
Sigh.
In the end, I made it through. It's done.
Bottom Line:
Despite my issues, you pretty much have to read this one if you are at all invested in this series.
Other Reviews:
The best part of the books has always been the friendship, a friendship as deep as love, between the main characters. This part got even better.
From Charlotte's Library
It wasn't the strongest book in the series (for me) but I still really enjoyed The Raven King. I think the series is one of the best in YA.
From Read This Instead
The ending of the novel was just as heart-wrenching as I expected and I really liked the way that everything was worked out.
From So Many Books So Little Time
...but I will send a shout out to Henry Cheng, who was just brilliant. I really want to read more about him.
From A World of Reviews