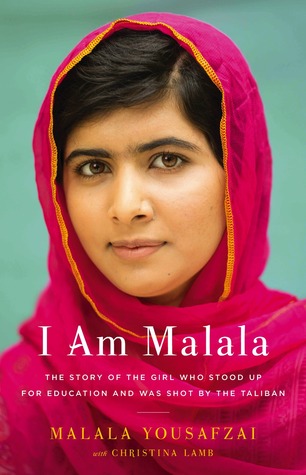 Book: I Am Malala by Malala Yousafzai
Genre: Memoir
Rating:
★★★★☆
It's a crazy story, this one about a girl who was shot in the head on her way home from school in Pakistan. But the complication of the politics of the story as made me always shy away from reading this book. But since we are discussing it tonight for book club, I managed to read it!
And yes, my prediction was correct. While fascinating for the most part, the politics of this region and all the things going on here make my head spin. It's so complicated and hard for me, a person with little or no political sense, to grasp. The culture bits are fascinating and yes, the culture is wrapped up deeply in the politics.
But mostly, while reading... I just kept thinking... BUT WHY??? WHY WHY WHY? It's so hard to understand!!!
I thoroughly enjoyed getting to know Malala though and find her rise to fame (even before the incident) to be interesting. To do the things she and her father did in the face of all the crap going on over there is pretty incredible.
And then I find the fact that she survived this shooting to be even more amazing. I think she survived because she was able to get some special treatment... I think if she had just been a "normal" kid with no ties to the right people, she would have not made it. Which makes one ache for all the normal kids.
The other thing I found interesting is that I was so relieved for her and her family when after the shooting they found themselves living in England, totally free to do whatever they wanted! No more fear! But still, they weren't happy because they missed their home and culture and friends so bad. What a hard hard thing.. to be torn between the familiar on one hand and freedom on the other. I really hope this country gets it figured out soon so people can live happily ever after there once and for all. I'm not sure it's ever going to happen.
Bottom Line:
Everyone should read this I think, if only to understand the fear and terror the people have to deal with in that part of the world.
Other Reviews:
I love how down to earth Malala and her father sound, yet they are making an extraordinary difference in their country.
From One Librarian's Book Reviews
The way her story was told was very grounded in reality, very humble. This is one girl's story. And, yes, in some ways she is extraordinary. But in other ways she's ordinary too.
From Becky's Book Reviews
.
..but most importantly, this is a record of a little girl's triumphing over the Taliban, and that, in my opinion, is a great read anytime.
From Reading on a Rainy Day
Despite her youth, Malala is already a true hero, but her work is far from done yet.
From The 3R's Blog