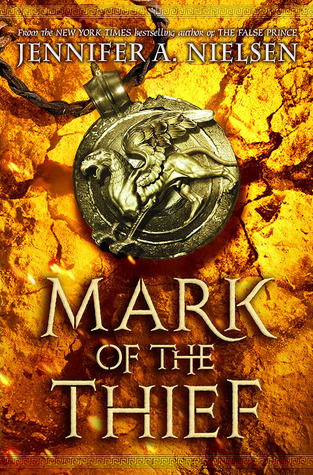 Book: Mark of the Thief by Jennifer A. Nielsen
Genre: MG Fantasy
Rating:
★ ★ ★ ★ ☆
For: Utah Book Month
From: Bought from Amazon, I think. One loses track of these things.
Short Synopsis:
Nic has been a salve just outside of Rome for years. His mom has been sold off and now his only wish is to keep his sister safe and out of the clutches of Sal, their mean old guard. One day, Sal forces Nic to be lowered into a scary cave where they suspect treasures of the gods to be found. Well, Nic does find something and his life is forever changed. Now not only does he have to protect his sister, but all of of the Roman Empire.
My Response:
What I loved most about this one is that it took place in Rome! And where was I just hanging out a short month or two ago? How awesome is it that I could totally picture everything? Awesome I tell you! And I've always loved stuff that has to do with ancient Roman gods and their power over the people. Really fascinating stuff. There was some awesome magic power fighting and a cool creature (a griffin) and some bad guys. All great stuff. Being a middle grade, there was only a hint of a romance, which made me crazy. And also, it ends just when you are all revved up for more! Gah!
Bottom Line:
Perfect book for fans of Percy Jackson and company.
Let's Talk About:
Are you like me were if you've been to a place, and then read a book set in that place, it just makes the reading experience all that much better? That's why we have go everywhere so all the books will be even cooler!
Other Reviews:
MARK OF THE THIEF showcases Nielsen's addictive writing, which has much to entice adults as well as the target child audience.
From In Bed With Books
But there was action aplenty, the bonus griffin relationship was a nice touch, and the whole set up promises good things in the next books!
From Charlotte's Library
I'm certain that kids are going to love it, and I look forward to the next book.
From Jen Robinson's Book Page
I loved how the story combines Roman history with magical elements.
From Literary Rambles