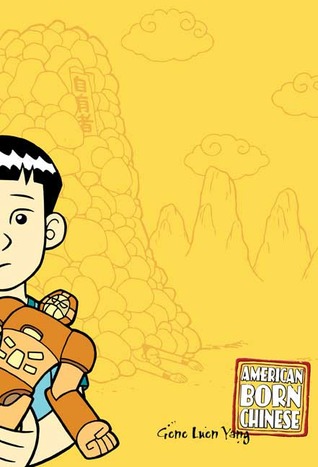 Book: American Born Chinese by Gene Luen Yang
Genre: YA Graphic
Rating:
★ ★ ★ ★ ☆
For: Fun, Printz Award
From: Bought at a conference and signed by the author
Short Synopsis:
Several stories in comic book form, that in the end come together to prove a point about embracing who you are. One is an ancient Chinese legend... about this monkey god. One is about our hero who is just trying to fit in and be normal. And another is about some other kid who's cousin comes to visit.
My Response:
Lots of laughs! Awesome pictures! I didn't get the cousin story line for awhile and then when it all made sense I was like... BRILLIANT! I don't know. Graphic books are kinda hard to review, but really, this one deserves all the praise it's been getting and I'm glad I finally picked it up. It didn't hurt that I met the author and he is dang cool. And fascinating to listen to. And that's an understatement.
Bottom Line:
If you aren't sure about you and graphic novels yet, do give this one a try!
Let's Talk About:
What's the best graphic novel you've read?
Other Reviews:
I loved the colorful illustrations and am never ceased to be amazed at how emotionally powerful and descriptive graphic novels can be.
From Love, Laughter and a Touch of Insanity
There are many funny moments in the story, but, like the best sort of humour, this doesn't get in the way of the book's seriousness or poignancy.
From Things Mean A Lot
What I loved most about American Born Chinese is aside from the colourful illustrations and the great characterization, these three little (interlinked) stories convey the same message about finding one's identity and to love and to accept who you are.
From Melody's Reading Corner
BUT then . . . then Yang comes from out of left field and BAM! Home run!! I'm telling you that this book just blew me away.
From Tif Talks Books