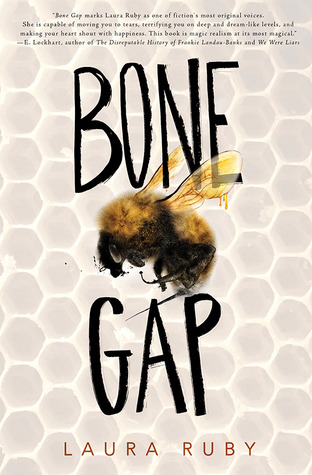 Book: Bone Gap by Laura Ruby
Genre: YA magic realism
Rating:
★★★★★
For: fun
From: the library
Short Synopsis:
There's always been something a little strange about Finn, a boy who lives with his brother in the small community of Bone Gap. When a friend of theirs, Roza, disappears, it sets things in motion that includes Finn's connection to Petey, and Petey's observation about Finn which in turn leads to Finn thinking about everything totally differently. I know that's vague, but I just really can't give stuff away! The book switches POVs often, mostly between Finn and Roza, sometime Petey and sometimes Finn's brother Sean.
My Response:
Gah! I can't even describe this book and do it any kind of justice! It's a very "other worldly" sort of book, lots of strange goings on. Disturbing things. And things that mess with your head. And yet, it's also very familiar with this small town comfortable feel. As I said, Finn is different and everyone doesn't know what to make of him. And yet Petey, a girl who works with bees, is also very strange and different. So when they get together, everyone thinks is just weird. We as readers think it's awesome. And then they figure out the mystery (well Finn does) of Roza, which is at the heart of the story. The writing is amazing and blew me away. I know there's a lot of deep stuff this book is saying, but I just sat back and enjoyed.
Bottom Line:
Read this one guys. Add it to the list. Now.
Let's Talk About:
Does it bug you if strange things happen that have pretty much no explanation? Are you one of these readers that can let your imagination just go with it? Or do you need a why? I like to, as I said above, just sit back and go with it. Who cares about the why sometimes, you know?
Other Reviews:
Laura Ruby is amazing, and I'll be surprised if this doesn't end up among my favourite reads of the year.
From Things Mean A Lot
It is a challenging read, one that puts you on a journey of discovery about all of the characters and about the town itself too.
From Waking Brain Cells
With a lyrical, enchanting writing style and eccentric, complex characters that I know will stay with me for a long time, Bone Gap is a unique story I absolutely loved.
From Paperback Treasures
This has it all, a hint of magic, with a side of romance topped with suspense.
From Alternate Readality