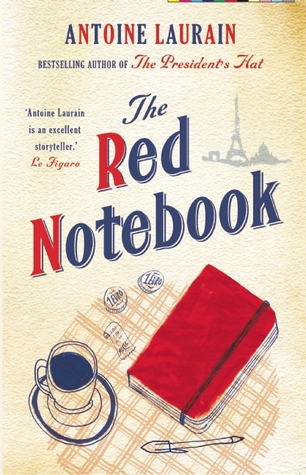 Book: The Red Notebook by Antoine Laurain
Genre: Literary Fiction
Rating:
★ ★ ★ ★ ☆
For: Review
From:
Received for free from the publisher. All opinions are my own.
Short Synopsis:
A girl gets mugged in Paris and her purse is stolen. In the process she bangs her head and ends up in the hospital. Meanwhile, a guy finds the abondoned purse after the mugger takes out the money. This guy is fascinated with it's contents (including a red notebook) and becomes obsessed with finding the girl.. in a non- agressive sort of way. All sorts of funny things happen due to all sorts of funny events. And in the end. Well, I'm guessing you can guess what happens.
My Response:
Very cute! I totally enjoyed it. Maybe a little too contrived, but since that's what's expected, it didn't bother me. I enjoyed the characters and of course the setting! And I really don't know what else to say about it!
Bottom Line:
If you're in the mood for a fun quick romantic sort of story set in Paris, this would do the trick!
Let's Talk About:
Cute fun books! What do you think? Are you good with them or do you need some deep thinking stuff?
Other Reviews:
While brief in page count, it is filled to the brim with beauty and intensity, mixed with humor, mystery, and a touch of classic romance, that together create a truly monumental read.
From Jenn's Bookshelves
I love a book that leaves me with a smile after I have put it down
.
From Winstonsdad Blog
There is mystery, romance and friendship running throughout this book. It was a lovely little read and one I will probably revisit again
. From
Fromfirstpagetolast
You need to pick up this great little book and spend some of your time in the company of Laurent and co. to discover the answers and became lost in the fabulous storytelling of Antoine Laurain
.
From Shaz's Book Blog