Book: I Love You So Mochi by Sarah Kuhn
Genre: YA romance
Rating:
★ ★ ★
This is a cute story about a Japanese American girl who goes to Japan to visit her Japanese grandparents that she hasn't known at all during her life, and in so doing hopes to "find herself" and figure out once and for all what she is supposed to do with her life.
Her mom moved from Japan to America for college and never went back. This has caused a riff with her and her parents (our girl's grandparents) and they haven't really had a relationship since. So when our girl (let's call her Kimi since that's her name) goes, she doesn't know at all what to expect, but it turns out that she bonded perfectly with her grandparents and they truly were able to help her figure things out.
The problem is her mom wants her to be an artist but she really enjoys designing clothes. So it's been a struggle. But what do you know, she finds out her grandma is also into sewing!
And of course when she gets to Japan, there's a cute boy (you know it, since the place is FILLED with cute boys!) and they have an adorable relationship, though it's fast because she only has two weeks. Sigh. So fast.
Anyway. I enjoyed the cuteness. The girl, Kimi, was really quite whiny though and it annoyed me that she knew what she wanted to do with her life but just wouldn't fess up to it until we had all this stuff with the guy and her grandparents. Though since that's the story, it had to be!
This book was especially fun for me since many of the places I visited last year were mentioned, including Nara Park with all the deer, and the huge Buddha also in Nara, and the hole in the pillar that everyone climbs through. Also, many places in Kyoto. Gah, I want to go back again! Such a beautiful place!
The romance was cute and I was able to picture the cute boy with the black shaggy hair and dimple quite easily since I "know" boys like this... lol! Yep, this was how I pictured him: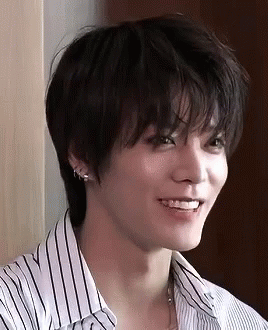 Yuta from NCT 127 and yes he's Japanese. :)
He just needs a dimple and he's be a perfect Akira from this book.


This was the second book we've read for the newly formed Asian Stories online book group. Can't wait to see what's next!