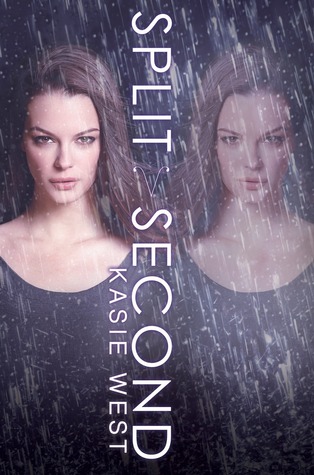 Book: Split Second by Kasie West
Genre: YA Paranormal
Rating:
★ ★ ★ ★ ★
For: Fun
From: Bought it... somewhere...
Short Synopsis:
This continues the story which began with Pivot Point where Addie sees the future and makes a decision about which parent to live with. In this book, we see the consequences of that decision and the changes that happen in her life. In the first book she makes a promise that's awfully hard to keep and in this second book, we find out if she manages to keep it. This second book is also a lot about her friend Laila's story. In fact it flips back and forth from the points of view of each of them. We get more familiar with the world of the Paranormals, and also we learn some interesting things going on the Normal world. It's all very complicated! And I'm feeling crazy here because I can't spoil anything!
My Response:
I love this story! And I would suggest reading these books really close together, something I don't normally suggest. They are truly like one continuous book. I had to find my Pivot Point and re-read the ending and a bunch of other scenes just so I could know what was going on. We as readers know more than the characters in this second book and that's really quite an interesting place to be. It's one of those instances where you feel like shouting through the book and into the pages so the characters will know what's up! Laila's story is fun and I enjoyed getting to know her unique personality too and having her own funny love story to follow.
Bottom line:
This is a great story with lots of twists and turns and not easily predictable. At least for me. I enjoyed the unique plot and fun romance. Read it.. read them both... together!
Let's Talk About:
Stories with two points of view! Like or don't like? I think many readers where bugged about this two point of view story, but as I said, I found it interesting and fun. Sometimes one point of view stands out and that's the one you always want to be reading, but sometimes you are okay getting a two for one, you know? What's your take on this? Do you enjoy reading two or more points of view, or would you rather we stay in just one person's head?
Other Reviews:
Split Second is a one day sort of read with action and an interesting world and answers all the questions you had from Pivot Point.
From Good Books and Good Wine
I'm a sucker for funny, and Kasie West does that very well, whether it's Addie/Laila banter, Laila/Connor banter, or watching Laila and Connor try to ignore their attraction to one another while Laila's brother Eli practices his ability at their expense.
From YA Romantics
This book was a fast-paced read. I wanted to book to keep going and have something else happen, but sadly it ended.
From Books With Bite
We all need Trevor in our lives. I'm totally being serious.
From Deadly Darlings