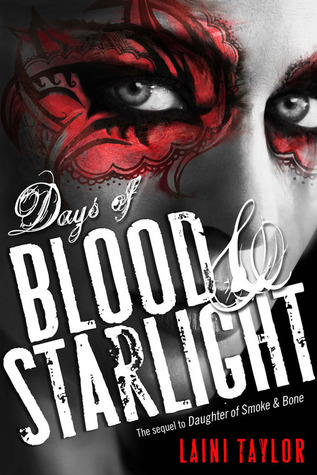 Book: Days of Blood and Starlight by Laini Taylor
Genre: YA Paranormal
Rating:
★ ★ ★ ★ ★
For: Fun
From: Bought at Costco awhile back
Short Synopsis:
Continuing where the first book left off (
Daughter of Smoke and Bone
) we have the two sides made of up chimaera (demon monsters) and seraphim (angels) warring against each other. Of course, we love the heroes on both sides! This is SO not what these characters had in mind according to what we learned in book one! And who's a reader to root for? They are each doing terrible things, and yet they both want to figure out how to make it stop so bad and so this story is about how each one of them is trying in their own way to find peace between the two races. And then, what about their relationship? Longing and hate abound.
My Response:
Oh! My! Word! This book! So painful, so wonderful and so so good! I pretty much read it with an ache in my heart the whole time. I mean, you want Karou to be happy and to make amends for what she "thinks" she's done, and yet, you want her to forget it all and just give it up and go to Akiva! And then there's Akiva who has to at least ACT like he is in alliance with all the angels, but still, he's doing stuff that just makes you want to CHEER right out loud. He is so awesome. This book is told from several points of view which really makes you get into the heart of the story and know what's going on all over the place. The writing is amazing and just, I don't know, how can people write so good!? We all have the same words to use, you know? Just... HOW? And speaking of side characters (
which I was in a previous review here on the blog if you are paying attention
) how about Suze and Mik? I LOVE these guys! I'm so glad they are part of this story and somehow keep themselves all mixed up in these paranormal happenings.
Be warned though, this book is graphic and violent and bad stuff happens. Like, I'm not sure there's anything happy at all in this particular book. But...
Bottom Line:
I loved it! Really really loved it. I knew it would end with a... NO! feeling so I've already got book three in hand have plans to jump right into it because, dang, I have to know! And Karou and Akiva? If they don't figure things out and you know, get together, I may just have to boycott reading! :)
Let's Talk About:
Second books in a series. Sometimes they aren't too great. This one is awesome. BUT, still, it always seems like first books are about getting the characters together and second books are always always about ripping them apart again. Right? Am I right? I hate that. What do you think?
Other Reviews:
...one wonderful bright spot throughout the book is the inclusion of Zuzana and Mik, who bring a very contemporary/human feel to this otherworldly fantasy. I think many other authors would have left Karou's human friends behind once this story relocated across the portal, but Laini Taylor doesn't and this dark tale feels fresher and younger for it.
From The Readventurer
Taylor has created a complex political situation which pits Karou and Akiva, who we all know are still in love, against each other.
From My Books My Life
The world building is amazing and one of my favorite parts of this series.
From Reflections of a Bookaholic
The Days of Blood and Starlight is DARK! DARK! DARK! and gruesome.
From My Little Pocketbooks