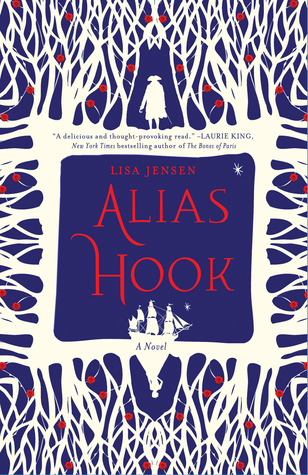 Book: Alias Hook by Lisa Jensen
Genre: Fantasy
Rating:
★★★★★
For: Review
From: Free for Netgalley. All opinions are my own.
Short Synopsis:
What if Captain Hook from the Peter Pan stories was STUCK in Neverland? What if the only thing he wants in all the world is to get BACK to the world? And to stop fighting Peter Pan? This is the story of what "really" happened to Captain Hook, how and why he finds himself in Neverland and how he tries to get out once and for all. This will make you look at him, and at Peter Pan, in a whole new way.
My Response:
It took me a few chapters to get into this story. It's very descriptive and a little wordy... lots and lots of pretty words! But once I got the feel for it, I loved it. Like, really really loved it! And the language and wordiness ended up being really awesome and I want to talk like that! The story is told from Captain Hook's point of view, both now in Neverland, and in the past when he was a true and wild pirate in "real life." The story really doesn't give him excuses for what he is, he was a true bad boy. But now, not so much. And he's so done. And he just wants to go home. Then one day, someone comes to help him. And suddenly, it turns into a very romantic love story.
The reason I went and found this one to request was because
April form The Steadfast Reader
tweeted me one day and said she was swooning at this book. . .which was newsworthy because she has admitted that she isn't much of a swooner. So of course I had to see what would make her swoon! And...yep, sure enough. Very swoon worthy! Whew... even steamy in parts!
And course, I pretty much imagined a particular Captain Hook in my head.... only a little older and with longer hair:
So. There you go. Swoony?
Bottom Line:
Yes, swoony. But much more than that. Beautifully written and imagined. I loved it loved it loved it.
Let's Talk About:
I've been on a re-telling kick lately! So much fun. What do you think? Are you a fan of re-tellings? Which one is your favorite? Because if you think it's the best, I sure don't want to miss it!
Other Reviews:
An excellent read for anybody who enjoys hearing the villain's side of the story.
From Don't Be Afraid of the Dork
I really enjoyed the picture we got of Hook as a sympathetic villain, and all of the flashbacks to his past were really interesting.
From There Were Books Involved
This is a familiar world, yet so very different. Like a dream. I enjoyed this book immensely, but then I always routed for Captain Hook. Always.
From Antonio Urias
There is no other way to describe Jensen's writing other than magical. I was "hooked" from the very first page…and yes, that pun was indeed intended :)
From Passages to the Past