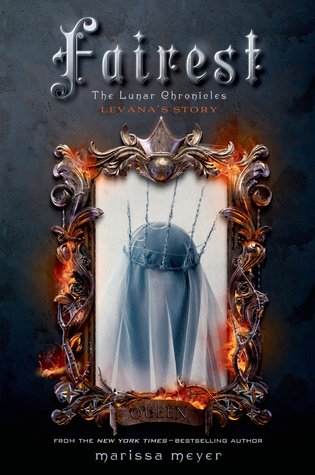 Book: Fairest by Marissa Meyer
Genre: YA SciFi
Rating:
★ ★ ★ ★ ★
For: Fun
From: Bought it a the launch party earlier this year.
Short Synopsis:
Before Queen Levena was queen of Luna, she was a 15 year old girl with a massive self image problem. This is that 15 year old girl's story. How she hides her true face behind a glamour all the time, how she loves a guard that does not love her back, how she has to deal with the meanest sister ever, how she struggles and struggles to find her place in the world and how she succeeds by using a method so ruthless I can't even...ah!
My Response:
Well, at least we know now what's behind this crazy lady! This book was heart wrenching for me. I don't know, just to see the pain both physical and emotional, that this girl suffers through and how she has no one AT ALL to talk her through things, which means, she makes some really awful decisions. I don't know. I felt bad for her, yes, and at the same time, she makes me crazy, just like she does in all the subsequent books! And the ending. Sheesh.
Bottom Line:
But I loved it! The full five stars worth because... wow. It's so cool to have such a powerful back story that it demands to be written and turned into its own book. I mean. Seriously. This book is all emotion and yeah, I just loved it despite the grim sadness.
Let's Talk About:
I always have a tendency to pooh pooh the little books, the "oh yeah" books, the "not for real" books, but you know, this one has proved me wrong. The little "accident" books are just as good as the real ones. At least in this case it is! What do you think?
Other Reviews:
I felt very sorry for Levana throughout the book, and I found myself very sad at the choices she made.
From One Librarian's Book Reviews
Meyer is an expert at weaving all the little details together into a beautiful piece of art and this book was no exception.
From Alternate Readality
I loved that most about Fairest: Meyer doesn't lay the fault of Levana's character on any one person, leaving it open to interpretation.
From The Canon
But for those who have read the first three Lunar Chronicles books, Fairest is just as compelling as the others, and is a fascinating look at a particularly nasty bad guy.
From Fyrefly's' Book Blog