Drama: Anniversary Anyway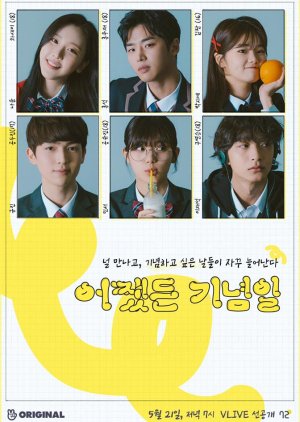 Genre: high school romance
Starring: Gyujin, Hongseok, Nayun
Rating:
❤ ❤ ❤
This was a fun little drama that we watched on Vlive... a sort of "webdrama" they call it. I think. It was like 12 or 14 episodes of only 5 or 6 minutes long. I usually get in one or two like that a year. This one we watched because it starred one of our Up10tion boys, Gyujin. Also, one of our Pentagon boys, Hongseok. Oh and one of the girls is from Momoland. So. We had to support!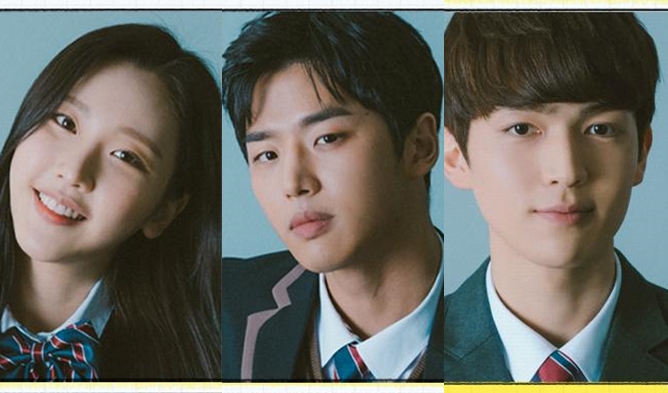 Nayun, Hongseok and Gyujin
So it follows the cute little stories of six kids... and how one likes that one, but that one likes another one and one's brother likes the girl HE likes, and one is already with his girl, but they are navigating the waters of early dating. All this different variations of high school romance stress. SO CUTE!
It's done in a different way where the actor is narrating the thoughts of the character... we get a little dialogue thrown in too, but mostly we just get their thoughts. Very different and very fun. And each episode is from a different kids point of view. And eventually we see how all of their stories sort of tie together.
It's beyond adorable and so very enjoyable. Our two boys are so so cute in this. I can't say CUTE enough in this review I don't think. Everything about it was CUTE CUTE CUTE!!
Here's a song with some clips:
You can find all the episodes on Youtube and instead of sharing a trailer, how about simply the first episode: