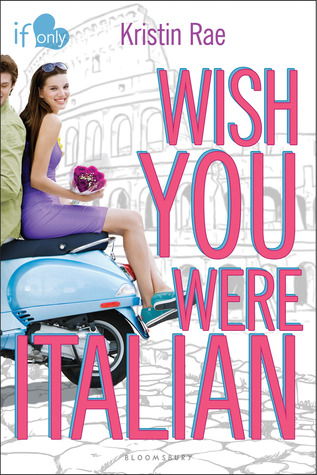 Book: Wish You Were Italian by Kristin Rae
Genre: YA Contemporary
Rating: ★ ★ ★ ☆ ☆
This one is that same line up books that Not in the Script is in...
remember that fun book from last year's reading?
It's about a girl who goes to Italy for the summer. She's supposed to go to Florence for an art program, but she decides to bag that and do her own thing... and not tell her parents. Turns out she befriends a local Italian girl working at a bakery and ends up going to Cinque Terre with her to live with her family and help in their restaurant.
The Italian girl has a beautiful cousin who sweeps our girl off her feet with his playboy ways. Our girl is all, wow, he's beautiful, but he's bad news. She tries to resist. It's hard.
But, it's made easier when an American guy, one she bumped into on her first day, shows up and invites her to go to Pompeii with him. Yeah. This boy is a much nicer choice.
So, all in all, it's a fun summer romance story, which is exactly what I expected. Very fun. But not too thought provoking or anything. The best thing about this book is having been to all the places mentioned (except Pompeii sadly) and able to picture everything, from the trails between the villages of Cinque Terre, to the train tunnels, to the gelato shops and trattorias, and finally the Colosseum and Pantheon in Rome. And when she said it was hot, I knew what that meant! Hot like no other hot I've ever experienced!
Bottom Line:
Cute fluffy romance story. I enjoyed it!
Other Reviews:
It was a really good summer read that simultaneously cured and riled up the travel bug in me.
From The Perpetual Page Turner
Fun, fanciful, and cute, Kristin Rae's debut novel Wish You Were Italian is a story of self discovery, friendship and romance that would make the perfect addition to your beach bag this summer.
From Pop Goes the Reader
It's one of those stories that wiill entertain; it's also a story that will proceed to make your wanderlust and desire to visit Italy grow in gigantic proportions.
From Alexa Loves Books
It was a fun read for the description of Italy and gelato alone.
From Book. Blog. Bake
.