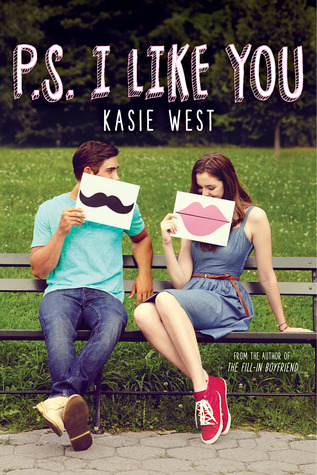 Book: P.S. I Like You by Kasie West
Genre: YA contemporary
Rating:
★★★★☆
This sort of book is exactly the sort of book that I'm in the mood for these days. Just a fun simple romance, with a bit of drama thrown in. In this story, we have Lily who is bored during Chemistry. She doodles on the desk, some random song lyrics from an obscure band. The next day, someone has doodled more of those song lyrics. She is blown away that someone else knows of this band! She is so excited. She reponds and before she knows it, she has an on going communication with some unknown person.
At first, she doesn't want to find out who it is but then she gets more and more curious. Meanwhile, she is trying to be brave and go out with the mysterious cool looking kid she's had a crush on her whole life. And her friend is trying to set her up with some other dude that she thinks will be perfect. (Her friend thinks not Lily... Lily is all... whatever.) And she keeps wondering if one of them is the writer of the notes.
But when she finally finds out who IS the writer, she pretty much goes crazy.
And all that crazy turns out to be quite fun.
Yes. I so enjoy these sorts of books. Bring them on.
Bottom Line:
Read for fun and fluffiness.
Other Reviews:
Kasie West writes the most adorable light teen romance ever. Her books are drop-everything-and-read-NOW books for me.
From Sarah Reads Too Much
As with all Kasie West books, this also had great friendships and family relationships.
From YA Romantics
YA gets a bad rap for dead or absent parents, and you will definitely not find that here!
From The Fake Steph