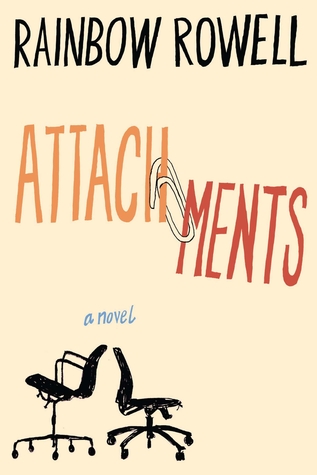 Book: Attachments by Rainbow Rowell
Genre: NA Contemporary
Rating:
★ ★ ★ ★ ☆
For: Fun
From: Bought for my Kindle
Short Synopsis:
It's during the 90s and everyone is really paranoid about this new computer/email technology, so Lincoln is hired at the paper to monitor the emails of the staff... make sure they are not being bad! So a couple of the girls on the staff start having a fairly revealing conversation about their lives and Lincoln is caught up in the drama and reads them.. and does not get them in trouble or anything. In fact, he slowly but surely falls in love with one of them. Meanwhile, he is struggling in his own real life, finding his place in the world and trying to feeling worth something.
My Response:
So much fun! I love Lincoln! What a sweet and nice boy he is...even if he is eavesdropping on an email conversation! And yes, that becomes a big problem for him to solve. Anyway, he is such a nice guy that you can't help but root for him and fall a bit for him as a reader. Interesting how you can get to know people so well through their emails too. It's awesome. Also, it's a fun flashback to the whole Y2K craziness! Ah, the good old days! And... I would love to talk about the ending... but I can't. Too spoilery.
Bottom Line:
I totally enjoyed it and read it in nearly one gulp.
Let's Talk About:
Falling in love without seeing someone? Yes or no? I think it's very romantic. I love the idea of it.
Other Reviews:
I found it to be a quick, fun read and thought it was just delightful!
From BermudaOnion's Weblog
Lincoln is such a typical, everyday person who lives at home and likes playing Dungeons & Dragons, but also enjoys going out with his friends to concerts. He's well-rounded and interesting, and I enjoyed getting to know him in his PoV chapters.
From A World of Reviews
It sounds like a predictable plot, but it has some surprises, and so many laugh-out-loud and warm moments, you wouldn't care if it didn't.
From Rhapsody in Books
This is a character-driven book, so if you are looking for action-packed plot, look elsewhere.
From A Tapestry of Words