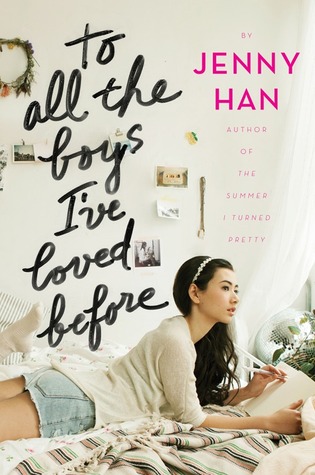 Book: To All the Boys I've Loved Before by Jenny Han
Genre: YA Romance
Rating:
★ ★ ★ ★ ☆
For: Fun
From: the library
Short Synopsis:
Lara Jean has written letters to all the boys she's loved in her life and put them away. Until one day somehow they get mailed. Ooops. This causes all sorts of awkwardness that she is bugged to have to deal with. But in the process she has a chance to truly fall in love.
My Response:
It's a cute story and I totally enjoyed it. Besides the love story there's the family issues which Lara Jean is also dealing with, as is usually the case. This is one of those books that I gulped down in a day and had a blast reading, but now that it comes to writing the review, there's not really much to say. It was totally what I was in the mood for and so I'm glad I was spontaneous and grabbed it from the library when I saw it. Also, if you are into adding to your diverse reading, this book would fit the bill.
Bottom Line:
Cute fun and mostly fluffy!
Let's Talk About:
I think many of my favorite books are contemporary YA. What's your feeling on this? Do you like real life stuff, like this book deals with, or would you rather escape into fantasy non-real worlds? I like 'em both, but I need to read more contemporary!
Other Reviews:
If you are expecting a romance, then you'll be disappointed. The novel's focus is Lara Jean and her personal journey. Boys are involved, but they're secondary.
From In Bed With Books
Funny, tender and true, this romantic family drama mash-up will be cherished by fans of Judy Blume, Gayle Forman and Sarah Dessen.
From Reading Rants
I also appreciated the strong family message that was present throughout the book, and that Lara Jean's character was a mix of strength, smarts, and quirkiness.
From Attack of the Books
The real highlight of this book for me, though, is that it features fake dating. FAKE DATING. I love fake dating stories. Because I know that eventually one or both of them will fall for the other, and it is glorious figuring out the moment it goes from fake to real. I LOVE IT.
From The Englishist