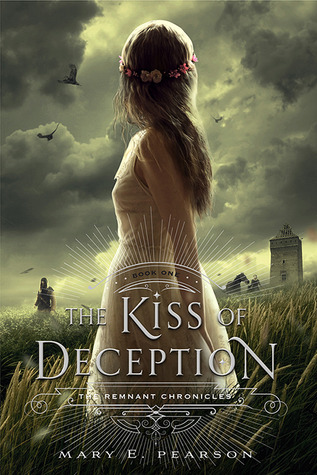 Book: The Kiss of Deception by Mary Pearson
Genre: YA Fantasy
Rating:★★★★★
For: Beehive Award reading
From: I bought it!
Short Synopsis:
The book opens with Lia getting ready for her wedding... to a prince she's never met and doesn't love. Well, she's going to have none of that so she runs away. And hopes to now live out a nice quiet life in a small seaside town miles away from the castle and the strife that everyone expects her to fix. However, a couple of guys (separately and on their own) find and follow her. Can you guess who they are? Well, even you might know who they are, Lia does not! Which can get pretty interesting after awhile.
My Response:
What an awesome set up, yes? And then there's a twist toward the end that had me freaking out. Yeah, I didn't see that one coming! It's a fabulous story within a harsh fantasy world complete with characters that keep you guessing constantly. Also complete with a cliffhanger ending! Here's hoping another book is coming soon!
Bottom Line:
I loved this one! The last book of the year and sadly, read after I did all my year end lists. Maybe I'll add it next year's lists!
Let's Talk About:
Do you pride yourself in figuring out the twists and turns in books? Or are you like me in that you usually aren't thinking about figuring stuff out, and are just reading along, when BAM! I love it when that happens and I'm glad that I usually don't see things coming. It makes for a thoroughly enjoyable ride.
Other Reviews:
Basically, this is such a rich and interesting world and like lest you get lost in the details, there's character development and action, and superb writing. I gobbled up The Kiss Of Deception in pretty much one day and it's one of my favorites of the year, absolutely no doubt in my mind about that.
From Good Books and Good Wine
There's a bit of an intrigue mixed dangerously OR delightfully with romance. Readers learn that there is so much to learn about the world in which this novel is set.
From Becky's Book Reviews
This is another one of those books that took me by surprise. I was intrigued by the description, and thrilled to find that the book was even better. Only one complaint: BIG-time cliffhanger ending!
From Proud Book Nerd
The chapters flowed, the story was captivating, the romance uplifting, and I was sad for the book to end.
From Books With Bite