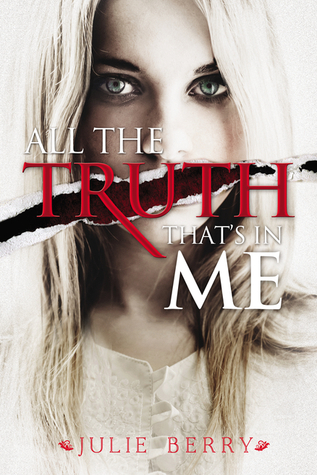 Book: All The Truth That's In Me by Julie Berry
Genre: YA Historical Fiction
Rating:
★ ★ ★ ★ ★
For: Beehive Awards
From: The Library
Short Synopsis:
Judith was abducted when she was 14 years old. And now, two years later, she's come back.. a changed girl. But then she seeks out her abductor in order to save her Puritan village. She doesn't expect that this act will throw suspicion onto the boy she's loved her whole life.
My Response:
This is the first book I've read as part of the Beehive Book Award project. (
See my explanation here.
) I was so happy to get my hands on it and finally read it. And once I started, I could NOT put it down. Except for those moments where I started getting nervous for the characters and I had to stop to breathe and gear up to read what I knew. . .felt. . . thought. . . was coming next! Ah, I love books like that were you are scared and nervous and anxious for the characters and you are DYING for certain things to happen and certain things to NOT happen. So good. I loved it. It has some disturbing things and deals with a pretty painful subject, but it's ultimately a beautiful love story that will have you swooning.
I also loved that it was written in second person. I mean, it was also first person as the girl is narrating and is the "I." But she is talking to the boy she loves, Lucas. So everything is "you this and you that". It was so well done and so different and the perfect way to tell this story.
Bottom Line:
Loved loved loved it! I'm pretty sure this book will be on my top ten year end list.
Let's Talk About:
The second person point of view. Do like it when authors shake up the whole point of view thing? What other second person books have you read that were done really well? Does it worry you that this book is in the second person and might keep you away from it? (Please, I hope not!!)
Other Reviews:
It's a dark story but within the intensity comes a beauty that you cannot help but want to see shine through.
From Good Books and Good Wine
I loved this one. I thought the narrative was beautiful, haunting, memorable. The book was not what I expected at all, based on the cover. It was so much better.
From Becky's Book Reviews
Is it a mystery? Yeah, kind of. Does it have way more going on? Definitely WAY more going on.
From Lisa Likes Books
All the Truth That's In Me truly hit all the right notes, at least in my book. Not only did it take a myriad of challenging qualities (see above) and make them work, but it also took the essentials I look for in a good story - characters with depth, thriller plot lines, and emotional undertones - and excelled in those areas as well.
From Ivy Book Binding
This story is masterfully constructed full of suspense and twists along the way, which all leads to a chilling conclusion that will stir many emotions.
From Book Nerd Reviews