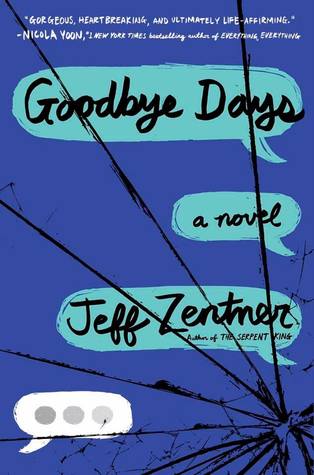 Book: Goodbye Days by Jeff Zentner
Genre: YA Contemporary
Rating:
★★★★☆
This is the story of Carver Briggs, who one day sent his friends a text when they were on their way to pick him up from work. The next thing he knew, he was getting notified that they'd been in a crash and all three were dead. There was a half finished text on the driver's phone... meant for him.
The is the story of Carver Briggs, who now has to deal with the guilt that his text killed his friends. The book opens up just as he is going to the last of the three funerals. That day, he has his first panic attack.
This is the story of Carver Briggs, who spends the next many months dealing with panic attacks and facing school alone, and seeing the twin sister of one of his friends glaring at him, and connecting with the girlfriend of the other friend, and hanging out with the grandma of yet the third friend.
It's the grandma of that third friend who sets into motion the goodbye days. Something that, while at first didn't seem to help, but in the end, worked. So he spent an entire day with each of the families, remembering that specific friend, doing with them what that friend would have done with them had they had the chance to have one more day.
I was worried at first about this book. It started out being a bit on the whiny side, like I was worried we would go through the WHOLE book with this boy moaning about how he felt so guilty about this accident. (And while I can see that he would feel this way, doesn't it come down ultimately to be the choice of the driver whether he looks at his phone or not? Carver sent the text, but the friend looked and tried to text back. )
So at first I wasn't sure I could handle that. But then it started to change, and we started to see Carver dealing with things. The tiny little romance with the girlfriend of one of the boys (which yes made for a very interesting conflict there!) and the connection he started to make with the other families. And the connecting he made with his therapist who made him tell stories to get through things.
So, I ended up really enjoying it after all and loving yet another main boy character. I'm a sucker for the guy points of views these days! And it ended up hopeful and sweet and happy, despite the downer of a subject.