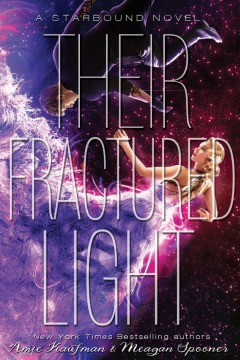 Book: Their Fractured Light by Amie Kaufman and Meagan Spooner
Genre: YA Scifi
Rating:
★★★★★
What an awesome ending to a trilogy! In this book, all three couples... Tarver and Lilac from the first book (
These Broken Stars
) and Flynn and Jubilee from the second book (
This Shattered World
) and a new couple from this book, Gideon and Sophie, who both have ties to the previous characters... all come together in a final crazy nail biting show down! And now... I'm so sad to be done!
These books have it all! (
Remember when we talked about plot and character last week and how you truly need them both?
) Yeah, these books are dripping with both awesome plot and awesome characters. In this last book, we meet Gideon who is a well known computer hacker and Sophie, who is running away from said computer hacker, among other things. 'Course she doesn't know who Gideon is and when she finds out, she is steaming mad. But alas, it's too late and she is already head over heels. And of course she is because Gideon is IRRESISTIBLE! And then they are both running and at the same time, trying to figure out how to bring down the bad guy. And when they go to do that, they meet up with the characters from the past books and BAM... let the crazy begin!
Gah. I love these books so much.
Bottom Line:
If you haven't read them yet, what the HECK are you waiting for?
Other Reviews:
The authors were very clever in how they make everything fall into place.
From The TBR Pile
This was probably my favorite book in the trilogy. All the action! All the intrigue!
From A Backwards Story
Their Fractured Light is not only a stunning execution of a cover (seriously, how do they keep doing that!?), it's a phenomenal execution of ending a beautiful and magical science fiction story. These authors have managed to pull off something incredible here and I want everyone to experience it.
From Such a Novel Idea
(P.S. In changing up my reviews, it appears I'm going to just go back to how I was doing them years ago... mostly just a vomit of feelings. I still like to see what others say, so I'll leave those links for now. Anything else I should add or take away? What do you want to know about the books I read?)