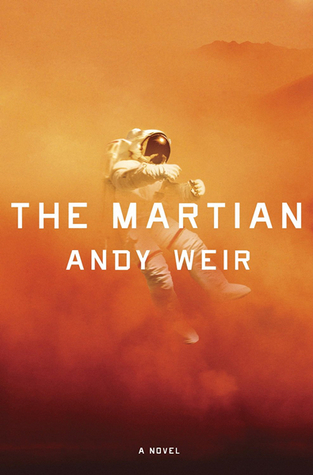 Book: The Martian by Andy Weir
Genre: Science Fiction
Rating:
★ ★ ★ ★ ★
For: Fun
From: Bought at BYU Bookstore a few months ago
Short Synopsis:
It's the third manned mission to Mars. On the 6th day there, a dust storm threatens to destroy the ship that will take them home. So they decide to abort their mission and escape. But an accident occurs and one of the crew gets hurt. The rest of the crew try to find him the storm, but they can't. It appears he's dead, so they continue on and leave. A bit later, this abandoned crew member wakes up and finds out he's alone on Mars. With his smarts and his sense of humor, he manages to figure out how to survive until someone, he hopes, can rescue him.
My Response:
I've been seeing readers rave about this one for a long time now it seems. I've avoided it because of reports that it was so science-y. I figured I'd find that boring. Well, it WAS science-y and I didn't understand much of those parts and I admit to skimming a paragraph or two here and there, but, BUT, the story and the humor and the fun and the intensity was amazing and all deserve the praise. I found the writing to be interesting in the sense that the author didn't worry much about all the billions of things we learn at writing classes and conferences and etc. He didn't worry about word choice, or changing tense, or flipping in and out of different POVs . He just wrote the dang story and had the most awesome fun voice ever. And it worked. I loved it. I especially loved learning that he shared this story on his website for free and his readers begged him to put it in Kindle format so they could have and savor it and read it over and over again. So he did, picking the cheapest way possible (99 cents) to distribute it. And then it flew to the top of the Kindle best selling list until he had people begging to publish it traditionally and to turn it into a movie.
I can't even imagine. What a crazy thing that must have been!
And now the movie. I haven't seen it yet. Hoping to fit that in this week. But from what I've been hearing, the movie also lives up to the hype and Matt Damon kills it. Can't wait.
Bottom Line:
Loved it, despite the heavy science talk. The voice and style made this story and all the science talk, while interesting, doesn't distract from the story itself.
Let's Talk About:
I hear that NASA "approved" this book. I don't even know what that means! I've never heard of such a thing. But I guess it has something to do with the fact that all the science checks out. That this REALLY could have happened, given the possibility that we ever get a man to Mars. I find this all fascinating. What do you think? What are your feelings on heavy science in your stories? How do you feel about space and traveling to other planets?
Other Reviews:
Personally, I couldn't get enough of his gallows humor, his smarts, his snark, and his impatient streak.
From The Little Red Reviewer
The book touched all kinds of buttons in my geeky heart; space travel, real science that not once relies on some made up magical science to save the day, funny, suspenseful, surprising and unabashedly entertaining.
From So Many Books
All that said, The Martian is an entertaining and enlightening story about the hazards of interplanetary exploration, a cautionary tale of sorts, but one that celebrates the problem solving expertise of those in charge of the program.
From Book Chase
The Martian is an intelligent and witty science-based story that reminds its audience of human abilities and perseverance.
From That's What She Read