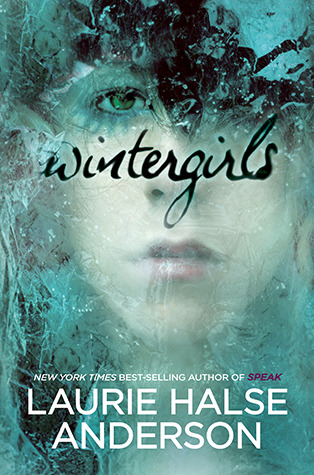 Book: Wintergirls by Laurie Halse Anderson
Genre: YA
Rating: A
For: Fun
I was a little bit scared of this book. The subject matter, anorexia and bulimia, is hard to read about. Very hard. Yet the whole experience was very enlightening, and it's totally amazing the way this author can get into the head of a girl going through this stuff.
The story follows Lia's struggles with food, something that began when she was just a very young girl. She and her friend bet each other about who could get the skinniest. Now, years down the road, it's all made worse when that same friend dies in the very opening chapter of the book. Lia feels the death is her fault, so she punishes herself even more. She tries to be "normal" for her little sister, but her parents make her crazy and she fights against everything they do to help her. This part was especially hard for me as I saw myself in the parent role and knowing that no matter how hard you, as a parent, try to help, the teenager struggles even harder to resist that help.
I am a little reluctant to let my own kids read this one, but I'm not sure I can put into words why. Perhaps because this particular problem is more within the realm of possiblity for them then some of the other teenage problems that we often read about, so I don't want to give them any ideas... or something. I don't know. I just know that it's scary.
But, it was a great book!
Other reviews:
Beth Fish Reads
Presenting Lenore
Maw Books Blog
Books. Lists. Life.
and a gazillion more!