Listening:
I decided to have an obsession with the Cheerleader song this week. I'm guessing you've all heard it, since it seems to be pretty popular on the radio, but just in case:
Watching:
Well, I'm behind on my TV watching this week! Maybe I'll have a chance to catch up toady, but you can see
my thoughts about last week's Walking Dead right here
. We are enjoying Survivor too. I did start watching Moonlight episodes like I threatened to do awhile back, though none this past week.
We keep going to movies on $5 Tuesday too, which is awesome. I haven't reviewed them here yet, but I we saw Pan and The Walk. Maybe I'll fit in some thoughts on those sometime this week. But basically Pan was okay though I really hated the guy who played Hook (Once Upon a Time has ruined me for anyone else trying to play that roll) and The Walk was awesome but I pretty much squirmed and closed my eyes for the last half. I thought he would NEVER come off that wire! It was great in 3D and fabulous story
He freaking laid down on that wire. In real life!!!
Reading:
Well, I caught up with reading last weekend during the Readathon with five books completed. This week I was back to no reading. Except for last night I declared the evening to be Readathon Take Two and I sat and read the second half of The Tightrope Walkers (no relation to The Walk) until I finished it. Wow, that was quite the book. Hopefully I'll fit in a review soon!
Writing:
Oh my. Writing has been my life this week. I worked on my story ALL DAY Thursday and the whole afternoon evening on Friday, then I spent the whole day Saturday at a fun little new low key laid back writing conference,which I loved. I will write details about that over at my
new writer website,
which I plan to make public this week in celebration of Nano. I have to spiff it up a bit more though, but I will write more about writing there than here, I think. Hopefully those of you interested in the writing bits of my life will follow me there. I will provide links!
But, my story is still not ready for sharing to beta readers. I have a few more things to do and after the conference yesterday I'm pretty sure the whole thing really truly is crap and I've done nothing AT ALL right. It's the most frustrating endeavor ever. But... pressing on.
Looking forward to Nano though, even though I'm writing about a subject I know nothing about and I think I'm expected to "build a world" which is sort of overwhelming, you know? My journey, like I said, will be on
the other site
, with mentions and links here.
Blogging:
I'm pretty sick of it, I must say. (Which is bad if I plan to publishing posts on another site! What am I thinking???) But this week, I have so much to blog about! I have to get caught up on all the readathon books, and 50 Things Lists and it's Book Banter week, and on and on and on. Even if I'm sick of it, there's always always something to say it seems.
I just don't think anyone is reading it anymore. Where'd you all go? I've really been feeling the whole "cricket" sound the past few weeks. Sigh. But.. pressing on.
Eating:
Jayne
and I went out for lunch during the conference yesterday to a place that's been around awhile but I'd never heard of and I had the best quesadillas I've ever tasted! That was the best food experience of the week by far. Today, I'm craving chocolate chip cookies, so if that happens, maybe it will come in as a close second. Oh, I did make banana muffins with ripe bananas and they turned out really good too!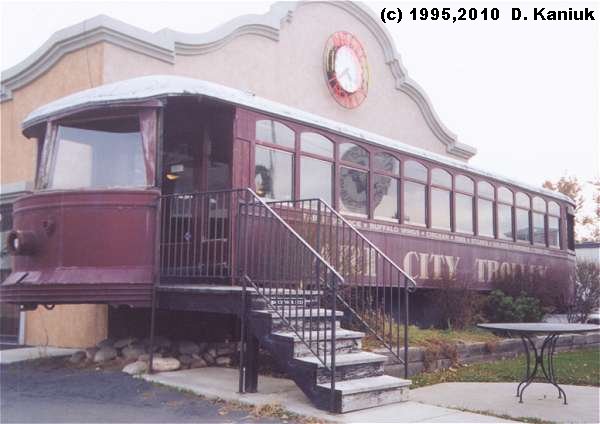 Art City Trolley Restaurant
Crafting:
So
Jenni
wants to start a craft circle... (is that the right name for such a thing?) where we sit around and craft and talk. I'm still waiting to see if that happens! (Jenni... you say when!!) And if so, I think I will pick up my hexagon wall hanging and get that done once and for all!
Miscellaneous:
I can't think of anything extra to add today, so I guess that's it!