Drama: Imitation
Genre: melodrama
Starring: Jeong Ji So, Lee Jun Young, Park Ji Yeon, Jeong Yun Ho
Rating: ❤ ❤ ❤
This was a fun drama that got a lot of buzz because it stars a bunch of our favorite kpop idols playing... kpop idols. Kinda cool, yeah?
It's about a couple of different kpop groups... two boy groups and one girl group, and follows them in their journey to debuting (in the case of the girl group) and struggling (in the case one of the boy groups) and being huge and popular (in the case of the other boy group.)
It deals with a bunch of issues swirling around the industry...the competition between groups, the comradery between groups, the terrible management and manipulation by management, the struggle these idols have with dating relationships, and so on. It's heartbreaking at times.
But also really heart warming at times too. Our main dude is very popular and a bit of an angry young man, but then he connects with the girl from the girl group and they bond and fall in love. And then he turns all sweet and soft. But the other dude from the other and already loved her, so he has to deal with that sadness.
When the drama opens, one of the guys from the popular group just up and disappears right in the middle of a performance, so we have the mystery to deal with and learn about. And that's part of the heartbreaking bits.
Anyway, it was very fun to see boys from ATEEZ, and SF9 doing some great acting. And it was fun to fall in love with a dude named Park Yuri (he does solo stuff) and also the main dude who used to be in a group called U-Kiss back in the day. They were all great. The girls were from real live groups too... Pristin and I forget who else.
Jongho from ATEEZ and Park Yuri... so much comic relief in this drama. LOVED THEM!
But the fun thing is that these fictional bands, since they were made up of people in real bands, all did songs and performances as part of the show. I loved that.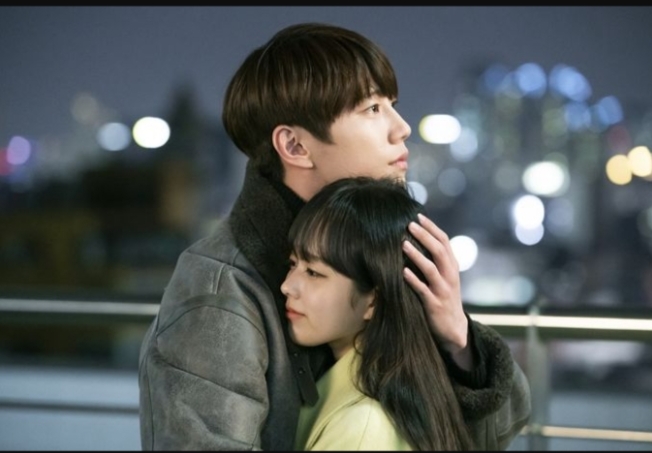 Our cute couple
So yeah, it was great and a lot of fun. It did get a bit slow for me in parts and I always just wanted the cute romance parts, but everything about it was quite interesting.
Here's a tiny trailer:
Here's the "popular" group SHAX with their song:
Here's the "struggling" group SPARKLING with their song:
The debuting girl group OMEGA 3 with their song: