Drama: True Beauty
Genre: Romantic comedy

Starring: Chan Eunwoo, Moon Ga Young, Hwang In Yeop, Park Yoo Na
Rating: ❤ ❤ ❤ ❤ ❤
I guess this one is based a very popular webtoon that I have not read, but that a ton of people have. It's about a girl who is "ugly" (basically she has bad facial skin) and is bullied by the students at her school. When her family moves and she is transferred to a new school, she gets a chance to change. She becomes an expert and make up and no goes to school looking fabulous. She instantly popular.
But there's a guy who hangs out at the local comic store and they have a run in there. So he knows her true face. When she realizes he is in her class, she is mortified and tries all she can do to make sure he doesn't figure out who she really is. But he has already figured it out! And does he care? NO! He likes her despite her face... whether it's made up and beautiful... or bare and "ugly."
And so they fall in love, but she is determined to make sure the other kids never find out her secret.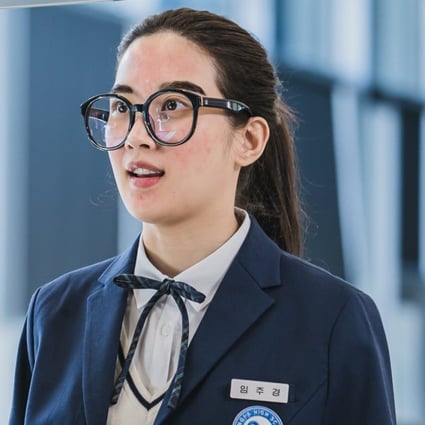 Ugly...????
Beautiful
Meanwhile, another beautiful dude (because the first dude is extremely beautiful too... and the smartest kid in the class besides!) appears. And he is the cool dude... the "bad" boy if you will... and something about our girl calls to him, and he also falls for her. Her beautiful face. What will happen when he finds out about her true face? Hmmm....
Well, and so... much happens. There is A LOT in this drama about bullying. It's upsetting to watch at times. But mostly this is a lighthearted one with so many laugh out loud moments. So many. And as usual played brilliantly by all the leads. And rips your heart out with the second male lead syndrome for sure.
The relationship between these two is what made me tear up the most.
I'm very familiar with our lead dude... Cha Eunwoo... seeing him in other dramas and on the stage with his group Astro... but I'd never heard of our second lead dude and he blew me away as he did everyone else watching this drama! I may have seen him some very secondary roles, but I don't remember him at all. But he is awesome. And is now on my list to watch whatever else he does!
Hwang In Yeop... beautiful.
Anyway, a very heartwarming drama with great messages about how we treat each other and deal with hard things. Watch it!
Here's a trailer and a song: