Drama: Suspicious Partner (Love in Trouble)
Genre: Mystery/Suspense/Romantic Comedy
Starring: Ji Chang Wook,
Nam Ji hyun, Choi Tae joon, Kwon Nara
Rating:
❤ ❤ ❤ ❤
This is the last drama our favorite Chang Wook will be in before he leaves to do his military service. In fact, I think he'll be leaving in a just a few days/weeks from now. Sadness.
And, he was amazing and fun and awesome in this one just like in all the others! He plays an prosecuting attorney who is struggling to prove himself. One day he happens to meet a crazy girl who he helps out in a strange situation and plans to never see again, but then she suddenly ends up being accused of murder and he happens to be prosecuting her.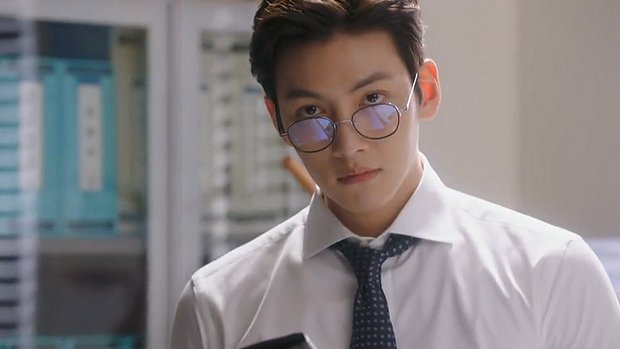 His attorney look!
Well. And so, I can't really tell you what happens from there, but their paths continue to cross again and again. She is pretty smitten with him (because of course who wouldn't be) but he thinks she is just plain annoying.
But, murders continue to happen and they decide that together, they are going to solve all these cases. And she ends up working for him because he starts his own practice (she's a defense attorney of course!) and then when she loses her place of abode, he lets her live at his place.
Yeah. Then things start to get a little tense!
More of the boyfriend look now.
Oh, and she defends a dude who is so freaking creepy! And it turns out he suddenly becomes important in all those cases they are investigating. And then... things really get interesting.
Dong Ha plays the creepy (but awesome) villain.
Such a fun show... all the way around. For the romantic chemistry and banter. For the most awesome creepy villain who blew me away with his acting and caused a ton of suspense. For the sad back stories. For the fun quirky side characters. For the tragic side stories. All of it.
Most of all though, it's the best because of Ji Chang Wook, who I've raved on and on about before. But yeah. He knows his stuff. And he knows how to be a leading romantic dude like no other. He's just, pretty perfect.
This one appears light on the face of it, but like most dramas, the deep stuff gets pretty deep and the suspense and edge of your seat-ness of the story comes up and gets you from no where. I love it.