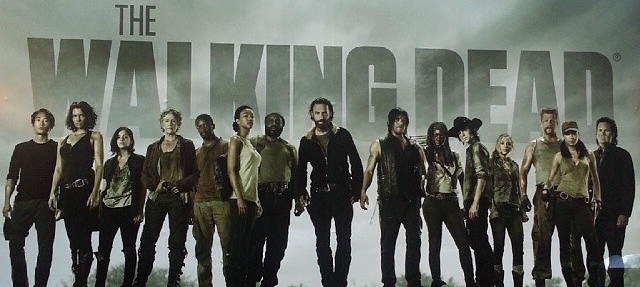 This 90 minute finale was crazy awesome! We, all the viewers, went into it figuring one of the main characters would be killed off. And they let us think that so many times! Every single one of them were in peril throughout the show.
First, Daryl and Aaron ended up at a food warehouse and suddenly a ton of walkers come pouring out of the truck trailers. (Have you ever wondered how the walkers can be so quiet before we realize they are there and then suddenly, they are all raging noisy groaning things?) Anyway, Aaron and Daryl get trapped in a car with hundreds of walkers pounding the car all around them.
The scariest moment of the episode!
Then there was Glenn, who went into the woods followed by Nicholas who had some sort of revenge thing going on. (Although what Glenn ever did to him, I don't know.) And Nicholas shot him, but only in the shoulder, and then proceeded to beat him up. Of course, then the walkers came, Nicholas ran away and Glenn was over powered by them.
And finally, we had Rick who after last week's episode was on trial of sorts and everyone was going to decide if he could stay or if he had to go. So, as he was coming to the "trial" meeting, he noticed that the gate was wide open. That's because stupid Gabriel had neglected to close it properly. And of course, walkers got in. Rick finds them, fights them but in the process, he is also overpowered by them... for a moment.
Rick, after squeezing a zombie to death.
In the end, Rick kills it with his bare hands, and drags the thing to the meeting where everyone had been discussing the fact that he's not a team player. They are pretty surprised to see a walker inside the walls! Yes? We'll come back to this moment shortly.
But first, Glenn. I have no idea what happened with him, because they didn't show us, but suddenly, he's back up and running after Nicholas. He catches him and puts a gun to his head. After much threatening, he doesn't kill him.... of course, and in the end, we see them limping together back inside the wall.
And then Daryl. He and Aaron are counting down to make a run for it just when Morgan, who we had seen at the very beginning of the episode fighting off the creepy W (Wolves?) guys with a stick Darth Maul style, appears on the scene and helps them to escape. Afterward, Aaron says, "you must come with us" but Morgan says "no, I'm going here" and he gives them the paper that Rick had from Abraham from way back in episode 2 or so. Daryl sees it and knows what's up. We can only assume he explains all, because in the end, they walk into Alexandria together.
Morgan to the rescue!
Meanwhile, Sasha and Gabriel are going crazy together, and Sasha ends up with a gun to his end. I think we all hoped she'd pull the trigger. But Maggie comes and saves the day and they end up praying together.
Oh, and Tara wakes up and looks like she's okay and Abraham and Eugene finally have a talk and decide they're okay again too.
Meanwhile, back at the meeting, Rick is going off on another lecture when Pete appears all mad and raging. Rick jumps in to stop him, but before he can do anything Pete has slashed the throat of Reg, Deanna's husband. While he's dying, she looks at Rick and says, "do it" and Rick shoots Pete in the head.
Bam.
End of season five!
Rick, Daryl and Glenn made it through. But poor Reg did not.
Now we wait for season six, which appears to be the group dealing with the Wolves and learning to maybe get along. I don't know. I guess we'll see!